If you've ever watched television, read a newspaper, or browsed a magazine, you've heard it (though you may not be able to name it). If you've been in the public relations industry for even a short while, you recognize it outright – it's that dreaded public relations speak.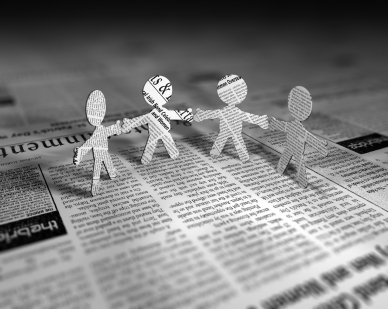 More often than not, traditional public relations speak is legalese and TPS reports all rolled into one boring packages. It's talk of "value propositions" and "sustainable giving." It's understandable (barely), but is it interesting? Increasingly, the public is saying "No!" And how are they saying no? Through venues like social media.
Social Media is PR
Whether old guard PR pros like it or not, social media is PR. It's just PR packaged in 140 characters or a viral video rather than in a press release or fact sheet. And that ignores the one distinct aspect of social media that the public has embraced in droves. Social media is just that – social. It allows the "audience" to talk back.
For years, organizations have been like the actors in a play. They expected audiences to sit back and react while they delivered their same old PR message. But with social media, it's as if the audience suddenly jumped up onto the stage and started acting in the play, too. And once audiences are on the stage (or say, Tweeting @Wachovia with their customer service questions), they are very unlikely to be content to sit in the audience again and passively enjoy the spectacle.
Okay, I Get That. So What Exactly is DIY PR?
DIY public relations is where companies or individuals take their public relations into their own hands. Before, perhaps this was simply a bootstrapping startup sending their own press releases or pulling publicity stunts. Increasingly, it's companies using new venues – websites, Twitter, Facebook, LinkedIn, internet forums, etc. – to get their messages across or their own terms. Increasingly, the media – that old bastion of public relations – is not even involved in this new form of DIY PR. Sometimes the media even picks up and reports stories that originally broke on the internet.
And are these DIYer's using public relations speak? No, they are using plain language that connects with their audience. A corporate Twitter account is likely to muse about all the staffers' excitement over the iPad in between Tweets with a corporate agenda. And "the public" (what "public relations is all about, after all) identifies with that. They're excited about the iPad, too! But are they excited about "value propositions?" Not so much.
Now that the audience is on the stage, the actors are no longer going to be able to put on the same old show. DIY PR truly is the PR of the future.
This article is written by Mickie Kennedy, founder of eReleases (http://www.ereleases.com), the online leader in affordable press release distribution. Download your free copy of 7 Cheap PR Tactics for Success in Any Economy here: http://www.ereleases.com/7cheaptactics.html