How do you take your business to the next level? How do you go from making a bit of money to being a well-known, staying brand in your industry? How do you connect with customers and truly imprint who you are in their hearts and mind?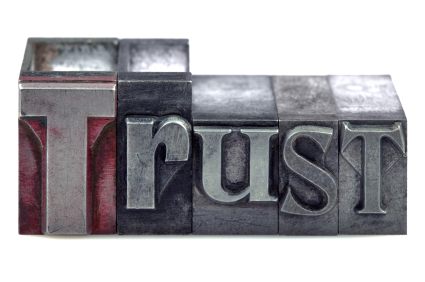 You have to make people place their trust in your brand. And trust isn't just given; it has to be earned.
Here's a few ways that you can do just that.
Build a Great Site
In this day and age, your online presence may just be the most important piece to your branding puzzle. That means your company website has to act as the face of your brand. Since statistics show that the large majority of people search the web before making a purchase, your website is often the first impression of you they get. That said, make sure you have a good site.
That means it needs to be well-designed. Don't use a template. Don't create it yourself. Don't write it yourself. Everyone will be able to tell, and that does little for your brand image. Instead, make sure you have a sleek, simple design that looks good but creates an easy-to-use atmosphere. Also make sure you hire a professional copywriter who can make sure that the content is both informative and interesting, while still driving people to take action. Remember, the words and images can either grab people or drive them away.
Be an Open Book
Who do you trust the most? People who obviously hide things from you? People who shut you off so you can't see in? Of course not. No, more often than not, you place your trust in those people who put it all out there for the world to see. Those who you know exactly who they are and how they will respond to you. Those who are stable rocks in a world of weeds that blow in the wind.
These people are the ones you need to model your company after. No, I'm not saying you need to give away your secret formulas or anything like that. But at the same time, you don't want to come off as secretive or like you have something to hide. Make the buying process as simple and transparent as possible. You don't want customers feeling like there is going to be a "gotcha" moment coming after they make their purchase.
Use Testimonials
The best way you can gain a customer's trust is to let your former customers act as your spokespeople. Assuming you've made them happy, that is. The first form this can take is testimonials. If you are including them on your website (you should!), do your best to include actual photos and even links to their own websites if they allow. Testimonials that just have names often lack credibility.
You can also perform case studies to use on your website, newsletters, and other marketing materials. Highlight a specific customer or company that came to you with a need. Show exactly how you met their needs. Customers will see this and start to believe they can trust you.
Do people trust your brand? If so, how did you gain their trust? And more importantly, what are you doing to keep it?
This article is written by Mickie Kennedy, founder of eReleases (http://www.ereleases.com), the online leader in affordable press release distribution. Download your free copy of 7 Cheap PR Tactics for Success in Any Economy here: http://www.ereleases.com/7cheaptactics.html