1. You think the CAN-SPAM Act doesn't apply to you. Not sure if you're in compliance? Read the CAN-SPAM Act here.
2. Your commercial emails don't have an opt-out link. You have to give subscribers to your email list a way to unsubscribe. Each message must contain this link, and the process must be fast and simple.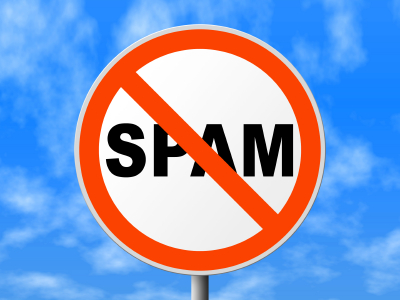 3. You bought your email list. A bought email list will never be as effective as one you take the time to legally build yourself. Fact.
4. You have several fake social media profiles just to spread your message further. Who needs friends when you can just create your own?
5. Your emails and blog comments begin with the phrase "Dear Friend". If you have to start the email with "Dear Friend", that person isn't your friend and doesn't want to be.
6. You leave short, generic comments on tons of other blogs. Want to get your comment deleted? Try doing this!
7. You use a keyword as your blog commenting name. Commenting strictly for linkbuilding is a poor SEO strategy.
8. You submit all of your own stuff on Digg, ReddIt, StumbleUpon, etc. That's the surest way to get your submissions buried and your account banned.
9. Your email subject lines contain fake "Re:" or "Fwd:" at the beginning of them. Another old-school trick used to lure people into opening spam emails.
10. You're only concerned with getting as many following/followers on Twitter. The numbers don't tell the whole story. It's about engagement.
11. You use auto-follow scripts to mass follow people on Twitter. See above.
12. When people try to leave your website, they have to click through several "Are you sure you want to leave?" pop-ups. The last chance popup offer has to be one of the most annoying, spammiest things I can think of. Just let me off your damn site already.
13. They only use social networking to promote their own stuff and don't participate with others. Yes, social networks are great for promoting your brand, but signing up and blasting out nothing but one advertisement after another isn't the way to do it.
14. Your email deliverability rate is in the basement. Are you constantly getting flagged as a spammer? Is your mail server blacklisted?
15. You pull email addresses off websites and add them to your contact list. Going to the contact pages of people you think would make a good prospect and spamming them isn't how you build an email list.
16. You still use hidden text on your website to fool the search engines. Seriously, is this 1998? I still see websites to this day that hide text in the background or shove a bunch of keywords in the footer of the page. Shameful.
17. You flood article directories with low quality, rehashed content. Article marketing can still be effective for building links and getting your name out there, but don't give into the temptation of writing huge volumes of shoddy content. Quality counts.
18. Your emails are blasted out from a random email address like [email protected] Use a trusted email address that recipients can easily identify and know it's you.
19. You view SEO as a way to manipulate the search engines, not a way to give visitors what they're really looking for. SEO isn't about tricking the search engines into giving you a good ranking. It's about optimizing your website to better accommodate searchers.
20. Other people think you're a spammer. At the end of the day, if other people perceive you as a spammer, that's all that really matters. You're done for, and you have a terrible image.
What are some other things spammers do? Share your favorites by leaving a comment.
This article is written by Mickie Kennedy, founder of eReleases (http://www.ereleases.com), the online leader in affordable press release distribution. Download your free copy of 7 Cheap PR Tactics for Success in Any Economy here: http://www.ereleases.com/7cheaptactics.html