You've been down see everyone at The Local Times what seems like twice a day for weeks now. Still, they just don't seem to have room for your company's story. It's not fair, you think … if only they had some vested interest in me succeeding!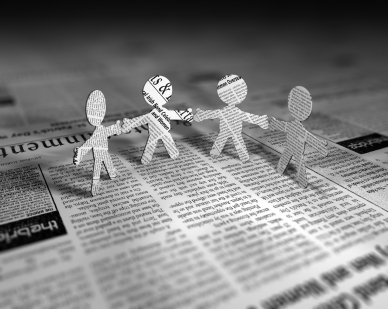 Actually, they do, contrary to what you may think. There are a few really good reasons every paper in your area wants your small business to rocket off the charts, and it's not just because it's good for the local economy.
Narrative
There's nothing more heartwarming to readers than a good success story. Hearing how the "little guy" came from nothing and managed to make the most out of what little he or she had never gets old to people looking for any good news.
However, if a newspaper doesn't have this angle because all the businesses in their area are suffering, then they can't run that particular story. If you come in with a sob story every week, they'll likely ignore you. If you have a rags-to-riches tale to tell, look for them to come knocking on your door.
When a reporter has a story ripe for the picking, they're likely to come back and follow up a little more. This is because during tough times when they just can't find a good story they'll skip the slush pile of press releases and see what you've been up to lately. Of course this will require you to be on your best behavior, but that won't be a problem, right?
Resources are Dwindling
Let's face it: newspapers aren't doing so hot these days. The big guys are doing ok, sure, but your hometown newspaper is probably considering how they can afford to stay open right this very moment.
Why? The Internet is how people get their information. Do you want to know the current situation in a foreign country? Look it up on CNN.com in the blink of an eye. There's no reason to look at newspapers anymore…except for any unique angles they can provide.
Your business becomes that angle. If you give them something to report on, they can justify staying open that much longer. If your business is so successful it reaches national fervor, they've suddenly become the voice of a phenomenon.
Plus, if your business does well, it may bring in more business to the local community. This gives them even more stuff to talk about in the future which leads to more newspaper sales. So yes, your local newspaper staff all want you to succeed for the potential chain of events it could cause in your town!
How often do you interact with your local newspapers?
This article is written by Mickie Kennedy, founder of eReleases (http://www.ereleases.com), the online leader in affordable press release distribution. Download your free copy of the Beginner's Guide to Writing Powerful Press Releases here: http://www.ereleases.com/insider/beginnersguide.html