Do you have a good idea for a video series? Do you have great advice to give to other PR pros like yourself or the public at large and not sure it'll fit into a blog post? Do you have a great camera and other equipment and not sure how to use it?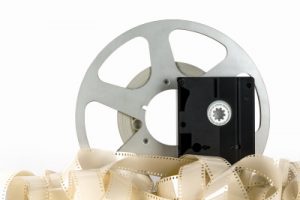 While there are a myriad of reasons to start up a video series, the most pressing one is that videos are woefully underused when it comes to PR. As old as the moving image is you think movies and videos would have a larger presence than they do in PR, but companies just don't seem to want to use them.
However, this gives you a huge advantage. If you can come up with a simple idea that people love to watch every week and makes them want to head to your company then you're set.
Not Hollywood 
"But I don't know what to do! I'm not a big fancy Hollywood producer!" Luckily for you, video blogging really isn't that complicated. You don't have to have a huge budget or crazy special effects to knock viewers' socks off. You just have to have an interesting subject and a creative way of presenting it.
Honestly the best way to make a video blog is to…make a video blog. The more you do it the better you get. If you watch any series regularly keep in mind you're only seeing the really good stuff. Those people have been practicing for a long time and eventually got to where they did through hard work. It will be the same way with you, but you have to start.
Why Does it Work? 
Developing a video blog series can give you some real face time (so to speak) with your customers and fans. You can address a series of issues and concerns in a small amount of time. Plus, people get a better idea of your personality when they see you talk and gesture naturally. You don't necessarily get that with a written blog or even a podcast.
Videos are also visually more dynamic than anything else you can make. Infographics are nice and exciting, but with a video you can put the same info up on the screen and explain it like no one else can. You can make it the most exciting info they've ever learned and yearn for more next week.
Important Tips 
What's the most important thing to take into consideration when starting a video series? Video right? Nope – sound, sound, sound, sound and sound. If your video looks like it was filmed with a ham sandwich it's definitely annoying. However, nothing is worse than straining to try and hear what someone is saying. Get a good mic.
Also remember people don't want to watch some epic video that lasts half an hour. You only have a few minutes to capture their attention and then they're off looking for the next thing. Stay succinct – five minutes or less – and don't add any filler. If there's a lull in the video people will check out and they may never come back!
Which video series do you regularly watch?
This article is written by Mickie Kennedy, founder of eReleases (http://www.ereleases.com), the online leader in affordable press release distribution. Grab your free 160-page copy of the Big Press Release Book – Press Releases for Every Occasion and Industry here: http://www.ereleases.com/insider/bigbook.html