After all of the hype surrounding Facebook and social media marketing in 2010, there's a pretty good chance that your business has setup a Facebook page by now. And like every other business, you're probably going around hounding your customers to "Like" you on Facebook.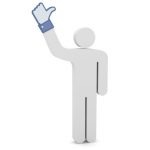 How's that working out for you?
Chances are, not so good. That's because most businesses go about getting Facebook "Likes" in the wrong way. They think that by simply being on Facebook their customers will want to connect with them. And they're wrong.
One of the first things you learn in marketing is that people are selfish. They won't take an action unless there is a benefit in it for them. They won't buy your product unless it improves their life in some fashion, and they won't "Like" your business on Facebook unless they get something out of it.
It's that simple.
You have to give people an incentive to "Like" you on Facebook, share your content with their friends, and build a relationship with your brand.
But what can you do to make this happen? How can you possibly incentivize "Liking" your business' Facebook page?
Take a look at what Walmart is doing on Facebook. They've created an app they call CrowdSaver. Basically, it's a new spin on Groupon. Walmart posts a deal on their Facebook page, but it doesn't go active until a certain number of people "Like" it. This gives customers an incentive to interact with Walmart on Facebook.
Now, I'm not saying you have to offer great deals to get people to "Like" your business on Facebook.
Instead, maybe you could offer free resources to people who "Like" your business. For example, you could say "Like us on Facebook to access our FREE whitepaper and other exclusive resources." This gives people a reason to take that action you desire.
It's all about focusing on the customer. Ask yourself, "Why should they 'Like' us on Facebook?" You need to identify a solid benefit and use that as your selling point. Otherwise, you'll never get as many "Likes" as you want.
Does your business have a Facebook page? What do you do to get more people to "Like" you? Share your thoughts by leaving a comment below.
This article is written by Mickie Kennedy, founder of eReleases (http://www.ereleases.com), the online leader in affordable press release distribution. Grab your free 160-page copy of the Big Press Release Book – Press Releases for Every Occasion and Industry here: http://www.ereleases.com/insider/bigbook.html