When running a business you operate under the assumption that some things you say may get you in trouble with your customers. For the most part this assumption is very true; for instance, just look to the recent Chic-Fil-A scandal for an example how off-the-cuff remarks can fly back in your face.
But how far do you take this self-censorship? There comes a point where everything you say is so sanitized that nothing of substance gets through. Eventually your language gets so boring it's like your customers are chewing on a bland piece of bread when they really want some delicious raisin toast.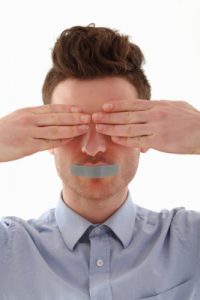 Personality 
One of the most important (if not the most important) things you can develop as a business owner is a distinct personality. In fact, if you're just starting out with your business, you're at an advantage, as there is plenty of time to work on this before customers find you. But even if you've been in the game for years, there's no time like the present.
It's not that you don't have a personality yet, it may just be that you haven't blown it up enough. You know the goofy Old Spice commercials? Those stick out because Old Spice's advertising team knew they had to come up with something big enough to attract attention. It was such a change from what people associated with the company that it blew their socks off. Now practically every brand has released some sort of goofy commercial attempting to ape their success.
When you're censoring yourself too much you're stifling potential for personality growth. Holding back too much of yourself means your inner light can't shine through and customers will never learn the real person who runs your business. In this day and age, that's a terrible thing to neglect.
A Perfect Balance 
Even if you've never said a mean thing about anyone in your life, eventually someone will take something you say out of context. Boom, you're right in the middle of a scandal simply because you don't want to hold your tongue once in a while.
It's important to find the perfect balance of speaking your mind and watching your words. You can develop your business personality without alienating a large portion of your customer base – if you're careful, that is.
An important step when developing a personality and a script to go by with your business is to do research. If you know what you can say and cannot say it's easier to avoid mistakes. Know what the hot button issues are and avoid them like the plague.
It doesn't have to be a huge issue like gay marriage and Chic-Fil-A; it could simply be a matter of accidentally reminding customers you took over a once-historical building. It may not be national importance, but it's important to the people who buy your stuff. In the end, that's all that matters
Do you find you censor yourself often when it comes to your business?
This article is written by Mickie Kennedy, founder of eReleases (http://www.ereleases.com), the online leader in affordable press release distribution. Download a free copy of the PR Checklist – a 24 point list of Press Release Dos and Don'ts here: http://www.ereleases.com/prchecklist.html