Like a carpenter or handyman, a PR pro must have their tools on them at all times. While you don't necessarily have a hammer and level, you nonetheless must keep your bag of tricks handy in your briefcase. Woe be unto the PR pro who makes a new high profile contact and doesn't have their business card or smartphone on them!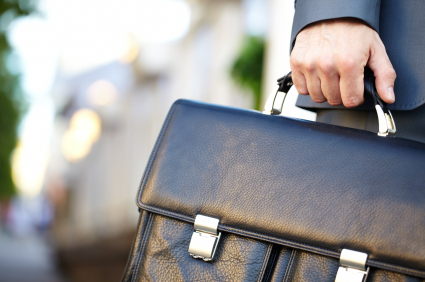 Let's open the PR pro's briefcase and see what's inside. The necessary tools may not even be tangible at times, but they are all very important!
Contact Information
How are your new clients supposed to call you if they don't have your contact information? This is absolutely one of the most crucial tools a PR pro can have. Always make sure you have some way for people to get a hold of you.
A well stocked supply of business cards is a good idea, as is a smartphone that allows you access to email and other messages instantly. This way you'll never miss anything, including snagging a brand new client that makes your career!
Willingness to Learn
This is one of those "intangible tools" I mentioned. It is very important for a PR pro to possess a willingness to learn. If you don't, you will become very stagnant. And in this business, that can be the beginning of the end.
It's one thing to learn and commit to the lessons of the PR past. It's another to outright ignore the tech and lesson of the future! If you don't stay on your toes and look out for new information, you'll get left behind. Some PR pros tried to deny the success of social media – and now they're all on Twitter and Facebook, way after the fact.
Notepad
Such an undemanding little thing, the notepad, but how vital it can be. Do you remember everything your client said during the initial interview? You probably weren't sticking a microphone in their face the whole time, so you undoubtedly missed something. Less so if you took good notes.
Write down everything during strategy meetings with clients, even if it seems irrelevant. You simply never know when a piece of previously unusable info will suddenly become the centerpiece of your campaign. After your take the notes down, by the way, you should transfer them to a more reliable medium, like the aforementioned smartphone.
Fearlessness in Risk Taking
Although this tool is another intangible one, you can almost sense it when a PR pro has a true fearlessness of taking risks. They always seem so confident that no matter what they do, it will work, and make them and their clients rich. Try to emulate that cockiness!
A true sense of adventure and risk taking can lead to greater things for your business and portfolio. It doesn't mean every campaign for your client should feature explosions and skydiving. But if you think outside the box a little to find what folks NEED and not just what they think they want, you'll reach higher peaks than if you take the well paved road!
What are some tools in your PR briefcase?
This article is written by Mickie Kennedy, founder of eReleases (http://www.ereleases.com), the online leader in affordable press release distribution. Grab three free ebooks, including the Big Press Release Book and Twitter Tactics, here: http://www.ereleases.com/insider/freebooks.html