Inbound Marketing: Get Found Using Google, Social Media, and Blogs by Brian Halligan and Darhmesh Shah asserts that the best way to get your company message out isn't by pushing your message out, but by using content to pull people in (hence the title, Inbound Marketing.)  It covers topics that we cover here on the eReleases blog,  such as how to get found in Google and why blogs and social media sites, such as Twitter and Facebook are important marketing tools.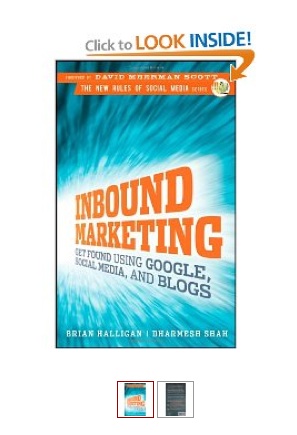 Brian Halligan and Dharmesh Shaw make Inbound Marketing easy to read by making the font large and including visual aids such as charts throughout the book, along with comics for a little extra humor. At the end of each chapter is an example of a company using the particular inbound marketing technique covered and an actionable to-do list with tasks mentioned in the chapter and a few blank lines for you to add in your own tasks.
Inbound Marketing is divided into four parts. The first covers exactly what inbound marketing is and briefly covers advertising history. The second part explains how to get found by prospects using social networks, blogs, and SEO techniques. Each chapter starts at the beginning with creating a user account and takes you through the set up process. The third part discusses how to convert visitors and prospects into leads and leads into customers. All these are useful but fairly standard. It's the fourth part, "Making Better Decisions," that already social-media savvy PR pros need to flip to.
"Making Better Decisions" covers how to make better marketing decisions, pick people for your marketing team, picking a PR agency, how to track your competition. and how to track results. At the end of the book is a Tool and Resource section. The section is pretty sparse, only covering Hub Spot, Google Search, and Google Alerts. However, also at the end of the book is a "Tips from the Trenches for Start Ups" section which makes an excellent framework of steps your company should take to get started with Inbound Marketing.
The specfic section on PR is a little short, but that's mainly because the book asserts that PR and marketing are becoming more and more intertwined. The section on PR is about how to pick and measure a PR agency, using the same guidelines listed in the earlier Picking and Measuring Your People chapter. The suggested framework for hiring both is called the DARC method:
Hire Digital Citizens
Hire for Analytics Chops
Hire for Web Research
Hire Content Creators
A nice addition is that for each criteria of the DARC framework, the book lists specfic questions to ask the professional you're considering. Very helpful.
As a whole, it's an excellent book. However, the majority of this book is for beginners – not for the experienced in social media. If you're looking to find out what this social media craze is all about and how to get started with it, this book is an excellent place to start. For the more advanced, it can be a helpful read. I suggest recommending it to beginners the next time they ask you "Hey, what's this Tweeterbook  thing all about?"
This article is written by Mickie Kennedy, founder of eReleases (http://www.ereleases.com), the online leader in affordable press release distribution. Grab three ebooks, including My Facebook Formula, a free report on Facebook and why you should be using the largest social network for your business, here: http://www.ereleases.com/insider/freebooks.html