One of the more interesting aspects of the Internet that's become more prevalent over the years is just how easy it is to acquire information. And when I say information, I mean on literally anything. Just the other day I looked up how to fix a kitchen sink when my pipes rusted through. Within a few hours it was fixed. No hilarious "flooding the kitchen" stories included.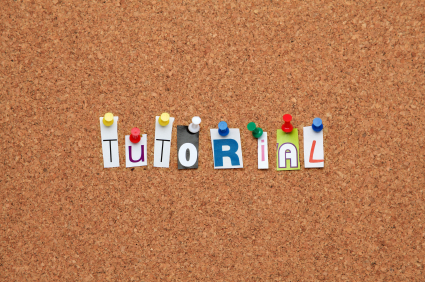 It's become easy to do practically anything yourself nowadays, as you can find tutorials for practically everything. Anyone looking to "do" whatever the tutorial is about is undoubtedly going to be grateful for finding a good one…especially if it saves them money (like my sink!). So there are some very legitimate reasons why you should be writing up your very own tutorial.
What They Are
A tutorial is any document or video that shows a reader step by step how to perform a task. For instance, my kitchen sink adventure involved steps on removing the offending pipes, hacksawing a new line, and what to buy to replace everything. It was detailed enough to not let me wander off the beaten path and accidentally flood my kitchen.
Now, tutorials don't necessarily have to be about performing a household task. They can literally be about anything. Just look around a site like ehow.com – you'll see everything from how to sharpen a pencil to how to build a computer inside a Nintendo case.
While these tutorials may seem a little unnecessary and strange, they show just how infinite the possibilities are when it comes to this exercise. And the funniest part of it is somebody somewhere out there desperately needs a how-to on building a Nintendo case for a computer!
What to Write
What's your area of expertise? This is what your readers are interested in. It doesn't even necessarily have to be about your business, though that may help. But it could be about anything, as long as it's as detailed as possible and professional.
Whatever you choose to write, make sure you do the tutorial correctly. If you poke around on eHow, you may notice some of those tutorials aren't exactly up to snuff. For one, they can get incredibly confusing. This is because writers don't take all the steps into account and accidentally skip over steps, which results in lost readers.
Before you ever write the tutorial, go over every single step to make sure you have it down. The tutorial on sharpening a pencil includes steps on when to STOP sharpening the pencil. It may seem unnecessary, but that level of detail is what your readers want!
Have you ever written a tutorial or used one from the web?
This article is written by Mickie Kennedy, founder of eReleases (http://www.ereleases.com), the online leader in affordable press release distribution. Download your free copy of 7 Cheap PR Tactics for Success in Any Economy here: http://www.ereleases.com/7cheaptactics.html