There's so much more to social media than posting on Facebook and writing on a blog occasionally. The more you become ingrained into this online world the more you realize how vast the rabbit hole truly is. As a result a lot of powerful social platforms go underutilized.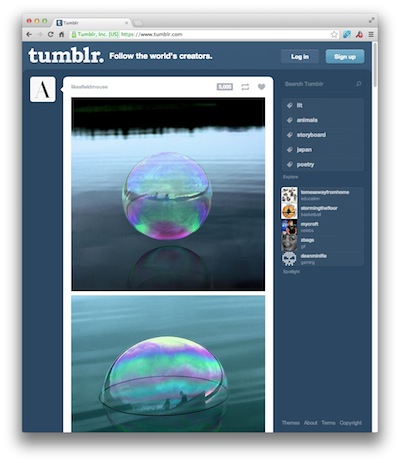 One such website/service that doesn't get enough love is Tumblr. Remember when Pinterest first hit the scene and everyone thought it was just a glorified Tumblr? No? Maybe it was just me. In any case, Pinterest is based on a Tumblr like model, yet nobody much uses the original for social media purposes.
But I'm here to say that needs to change, because there are tons of opportunities for customer interaction on there. Also, you may reach a totally new audience you had no idea loves your stuff.
How it Works
Tumblr is an interesting place – it's generally known for attracting hipsters and geeks who love to post Star Wars and other geek interest pictures. However, there are a wide variety of users on the site, though admittedly most are of the younger crowd. So if you're selling Metamucil maybe it's not the best venue.
For everyone else, though, there's plenty of opportunity to connect with the public. If you've used Pinterest at all, then you already have a head start as it's roughly the same. You see something you like, you repost it to your Tumblr, and others follow suit. That's really about it – not a lot of conversation, so that's a negative. But it's so rapid fire it doesn't really matter.
The difference between Tumblr and Pinterest is it's not all about the pictures you post. It's essentially all about what you share and with whom, be it pictures, videos, or just a cool quote you find. Share with others and they'll share it along the road – because that's what Tumblr is built to do. It's really that simple!
Tips
Perhaps it's better to compare Tumblr to Twitter. There isn't a strict character limit like Twitter, but the idea is to be as quick and concise as possible. Tumblr users like to scroll through posts for hours and if they suddenly come across a 10,000 word essay they're going to skip it and block you.
One of the best things about Tumblr is the ability to update it quickly from anywhere. Whip out your smartphone, scroll through, and repost some cool things for your followers to check out. You can do it in the office or sitting around at home – and to be honest it's kind of fun.
The main detriment, though, is it's kind of a time sink, especially if you have a ton of dedicated followers. Since Tumblr is so rapid-fire you start to feel like you're always updating to stay relevant. Try to develop a routine when to update (30 minutes in the morning, an hour in the afternoon, etc.) so you don't suddenly look around and see it's time to go to bed and you've spent all day on the site!
Do you already use Tumblr?
This article is written by Mickie Kennedy, founder of eReleases (http://www.ereleases.com), the online leader in affordable press release distribution. Download your free copy of 7 Cheap PR Tactics for Success in Any Economy here: http://www.ereleases.com/7cheaptactics.html