This past year wasn't the most prolific year for stunt publicity, but some good stories did crop up this year, including a truly cheeky ad from KFC and Vladimir Putin pretending he's Captain Ahab! Here are our top 5 publicity stunts from the year.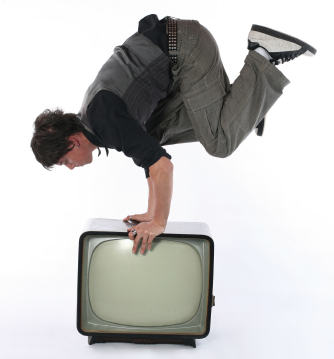 1. Assvertise
What better way to advertise an insanely unhealthy chicken sandwich than to show exactly where it's going to end up? Kentucky Fried Chicken went this route to advertise the Double Down – a concoction made solely out of meat, cheese, and precious bacon – when they asked attractive young ladies to wear sweatpants with "Double Down" on the rear. They handed out coupons to eager young women on college campuses around the nation. The cheeky campaign garnered controversy from women's groups and the Double Down didn't quite deliver on KFC's hopes and dreams for the meaty concoction.
2. Vladimir Putin
Though he wasn't intentionally trying to sell a book or promote the "Putin Brand," Putin did use his recognition for some good causes this year. Never shying away from the opportunity to be outlandish, the former Russian president and current Prime Minister helped collect skin samples from endangered whales in the Sea of Japan…the hard way, with a crossbow!
Not only that, but back in April he traveled to the Arctic Circle to, among other things, attach a tracking collar to a polar bear. First, though, he opted to give it a big old bear hug.
3. Heidi Montag and Spencer Pratt
The publicity hounds took it to the natural next step – they announced they were divorcing back in July.  But it was all a big hoax – the stars of the reality show "The Hills" later told Life & Style magazine they attempted the stunt to keep Montag's career going and to make some dough after they blew through all their reality show money. But after a series of deals floundered, they called the split off.
4. Imperial Stars Cause Traffic Jam
Little known rock band Imperial Stars tried to pull off a U2 and stage an impromptu concert. Unfortunately, they staged it in the middle of a super busy highway in Los Angeles, blocking several lanes of traffic!
The stunt landed them more foes than fans, including the LAPD. In a small twist, the band members say they aren't just in this for themselves; they claim to rock out to knock out homelessness, particularly for children. The stunt garnered national attention, so no telling how they'll try to rock out against homelessness next.
5. Pastor Terry Jones
On the eighth anniversary of 9/11, a pastor in Florida arbitrarily decided to stage a stunt burning of the Koran. Though seemingly something to ignore as the act could've been pulled off in relative obscurity, Jones nonetheless enjoyed world-wide infamy when world leaders asked him not to go through with it.
He finally did in fact back down a few days before the anniversary rolled around. But one thing was for sure: Jones proved that you can get attention simply by announcing a stunt, even if you don't go through with it.
What was your favorite publicity stunt of 2010?
This article is written by Mickie Kennedy, founder of eReleases (http://www.ereleases.com), the online leader in affordable press release distribution. Download your free copy of 8 Shocking Secrets Press Release Distribution Firms Don't Want You to Know here: http://www.ereleases.com/landing3.html