I have a confession to make. I'm kind of a Sopranos junkie. I've watched every episode many times over, and if I come across it while flipping through the channels, I'll stop what I'm doing to watch. So, the other night while watching the "Pine Barrens" episode, it hit me: Tony Soprano is a master at PR.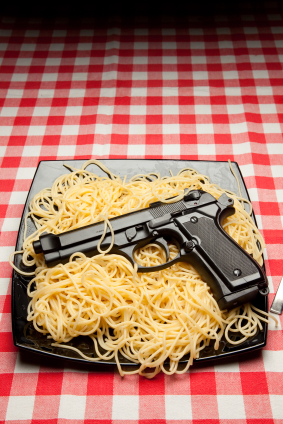 I know, it sounds crazy to look to a fictional mob boss for PR tips, but hear me out. During the 6 seasons of The Sopranos, Tony showed us several tactics we can put to practice in our own business.
Distance yourself from trouble – In order to stay the boss of the family and not end up dead or in prison, Tony had to distance himself from trouble. For example, if somebody needed to be whacked, he sent a captain or a soldier to handle it. And if they were involved in any illegal money-making schemes, his name wasn't on the record for it.
Now, this obviously isn't to say you should be engaging in illegal activity. But that's not the only way you can get into trouble. Just always try to make sure your name isn't attached to anything negative (illegal activity, bad products, poor customer service, shady dealings, etc.).
Take care of leaks – I know this might come as a surprise, but the mafia doesn't take too kindly to people who rat them out. Any time there was a leak, Tony took care of it (this usually involved dumping a body in the ocean.)
Be likeable – No matter how many awful things Tony Soprano did, we all tuned in each week to watch him. Why? Because he was still a likeable guy. It's the reason his wife never left him permanently. He was charming, and he had a certain teddy bear quality to him.
Whether you're building relationships with reporters or connecting with your audience through social media, being likeable can go a long way to getting positive results.
Give back to the community – Like other notorious criminals, Tony Soprano would occasionally give back to his community. From hosting Christmas events for the local kids to taking care of the widows of fallen family members, Tony bought a lot of goodwill from those around him.
The same principle can be applied in business. Consider the case of TOMS Shoes. The company made a name for itself through a simple promise: For every pair of shoes you buy, a pair will be donated to a child in need. Many other companies donate a set percentage of each sale to the charity of their choice. Not only does this help you make a difference in the world, but it casts you in a positive light with consumers.
Seek guidance from other experts – Even though he was the boss, Tony knew the value of seeking outside opinions from trusted authorities. He always had Silvio by his side, and he even went to a therapist (not exactly smiled upon in the world of the mafia).

So, what do you think? Was Tony Soprano really a PR genius?
This article is written by Mickie Kennedy, founder of eReleases (http://www.ereleases.com), the online leader in affordable press release distribution. To subscribe to PR Fuel, visit: http://www.ereleases.com/prfuel/subscribe/.