Sometimes, public relations just doesn't go right. And sometimes, it falls apart completely at the seams. Here are five cases from this year that either blew up in the company's face or are a prime example of a business or organization simply not trying at all.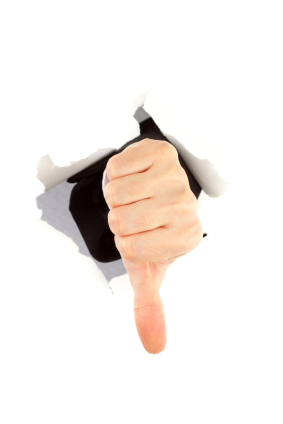 1. Cooks Source
One of the best examples in recent years of how quickly things can get out of hand if you're not paying attention is the strange tale of Cooks Source Magazine. This cooking magazine found worldwide attention when a blogger discovered an article she'd written years prior had been published without her consent (or reimbursement). When she complained, editor Judith Griggs wrote a nasty, snarky email telling her she should just be happy she hadn't just reprinted the article with a new name. Her argument was that the article was on the Internet, which Griggs stated was "all public domain."
The blogger took her grievance to her base, and word spread like wildfire. Soon Cooks Source's Facebook page was flooded with angry folks, and it was discovered Griggs had lifted other articles and pictures, including some from the Food Network. Litigation is soon to follow. And all it would've taken was a polite email from Griggs in the first place to avoid the backlash.
2. Nestle
When a Greenpeace campaign went after Nestle for using palm oil suppliers who were destroying the orangutan's natural habitat, protesters naturally went to the chocolate company's Facebook page to complain. Instead of understanding their concern and cooling things off, the social media manager running the Facebook page instead threw brush into the fire by being rude and condescending, going so far as threatening to delete comments by people who had altered the Nestle logo.
Apparently, though, that person was fired or given a stern talking to, as the tone of the company has since changed considerably, and Nestle has pledged to make further changes with their business practices. Protesters managed to do a lot of damage in a small amount of time, but Nestle finally stepped up and changed their ways.
3. Transportation Security Administration
Everyone is concerned with safety, especially when they're flying. However, many feel that the Transportation Security Administration (TSA) has gone too far with their new X-Ray scanner program – a program that can scan people, bags, shoes, and any suspicious items with much more efficiency than the 'pat down' technique. Dubbed "porno scanners," many people view them more as privacy invasions than security aides.
For those worried about the effects of X-Rays, you can opt to take the pat-downs, which have their own cute name: "gate rape." More and more reports of harassment, both "sexual" and otherwise, are coming from passengers all over the country.
The problem is, the TSA has yet to fully address the issues presented by the people they're screening. They continue to say that everything is fine and they haven't experienced any problems on site. It's still a relatively new issue, so it remains to be seen what will be come of the "porno scanners" and "gate rape."
4. DecorMyEyes
Coming in just under the wire is online eyewear seller DecorMyEyes. The company was showcased in a New York Times expose detailing their insidious practices. They go above and beyond simply having bad customer service or outrageous prices; owner Tony Russo has been accused of harassment, shipping fakes, and even threatening violence.
Worse, this was Russo's PR plan, and even worse, it appears to work! The more obnoxious he is, the more people complain online, and the higher his Google rank becomes. People are so outraged that it's led to a call for an overhaul of the Google ranking algorithm, lest more Russos pop out of the woodworks. Google has already moved to bury the company's results.
5. BP
It's impossible to talk about failures of public relations without mentioning BP in some capacity. After the millions of gallons of oil started pouring into the Gulf region, BP poured tons of fire on top of it by making gaffe after gaffe, several from their loose-lipped CEO, Tony Hayward. With comments like "I'd like my life back" in the face of thousands of people losing their homes and businesses, it almost seemed like the company was intentionally doing trying to win a "worst PR" award. Things got so bad that a fake Twitter account, BPGlobalPR, parodied the company's awful outreach, but Twitter followers often found it difficult to tell the difference.
What was your favorite PR fail of 2010?
This article is written by Mickie Kennedy, founder of eReleases (http://www.ereleases.com), the online leader in affordable press release distribution. Grab your free 160-page copy of the Big Press Release Book – Press Releases for Every Occasion and Industry here: http://www.ereleases.com/insider/bigbook.html