Thanksgiving today is often seen as "Christmas light," but back when I was a kid it was its own, unique holiday. And besides getting to see family and play football in the backyard amongst the colorful leaves, the best thing about it was all the delicious food!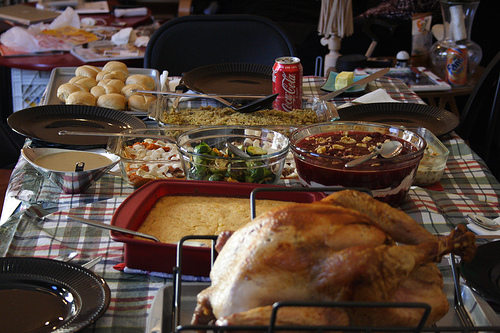 Every region has their own traditions, and within those regions each family had their own menu. But there are some staples that have stood the test of time. Just like (yep, here it comes) your social media campaign!
Turkey
Nothing screams Thanksgiving like a delicious roasted turkey…or perhaps a fried turkey? Depends on where you're from. Either way, the flightless bird is enjoyed by countless families all over the country.
When it comes to social media, your turkey is the main "dish" of your campaign. What do you want your readers and customers to "eat up?" That your product is the best of its kind, or perhaps that your company has perfected customer service?
Whatever your message is, it is the "meat" of your social media. Everything else is delicious, sure. But without this protein, it's all sides and dessert!
Stuffing
A little stuffing goes a long way. If you eat too much of it, you don't have room for anything else. But only getting a little tiny bit is a crime, too – why let it all go to waste? Or worse, let Uncle Jerry have another portion?
Stuffing is like SEO, or search engine optimization. Some companies believe that more is better, and they need as much SEO as possible to be seen or heard. However, like stuffing, a little goes a long way. You want the actual content of your message to be seen and not clogged up with a bunch of goofy keywords. Too much keyword stuffing and suddenly you're full with no room for anything else! (And Aunt Google isn't that happy with you either.)
Coffee & Pie
One of the most important food items as related to social media practices is the after dinner coffee and pie. However, it's probably not for the reasons you're thinking! Yes, it's a perfect ender to the meal, with bitterness and sweetness bouncing off each other. But what's really important?
The meal's all over, and the mad rush to eat everything in sight is done. Now, it's time to relax, enjoy some dessert…and talk!
Before, nobody could get a word in edgewise. There was just too much commotion; pass that plate here, refill this glass there, try this green bean casserole please. But now everyone can hang out and actually talk – and this is one of the most crucial elements to your social media campaign.
Without conversation, your campaign is basically over. Everyone is too busy shoveling food into their mouths – meaning other obligations like work and school – to talk with you. You must settle them down to have a piece of pie and cup of coffee once in a while so you can see how each other is doing!
What is the most important part of your Thanksgiving social media feast?
This article is written by Mickie Kennedy, founder of eReleases (http://www.ereleases.com), the online leader in affordable press release distribution. Download your free copy of the Beginner's Guide to Writing Powerful Press Releases here: http://www.ereleases.com/insider/beginnersguide.html