If you're like the rest of us, you spend much of your day blogging, commenting, Tweeting, Facebook-ing, Digging, and interacting on other social media outlets. This can certainly have its benefits, but I don't have to tell you how time consuming and overwhelming it can be if you're trying to go it alone.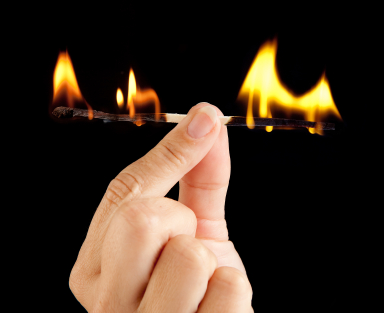 The problem is that a full-scale social media marketing campaign can be too much for one person to handle alone. That's because social media never stops. The conversation is always going, and because you want to stay relevant and be known, you feel like you have to keep up with it – day and night.
Over time, this can wear you down, and it can lead to total social media burnout, especially if you aren't seeing the benefits and results of social media marketing as quickly as you'd hoped. When burnout occurs, that's when you start seeing inactive Twitter profiles, infrequently updated blogs, and the undoing of all your hard work.
What can you do to prevent becoming another victim of social media burnout?
1. Define your goals – What do you want to get from your social media marketing efforts? Figure this out. Be as specific as possible, and create your goals. This helps you stay focused with every social media action you take, ensuring you aren't just wasting time and spinning your wheels.
2. Schedule your social time – A lot of us tend to use social media platforms in bursts throughout the day. This makes social media a constant distraction, and it makes it all too easy for you to kill more time on it than you have. By scheduling your social media activities, you stay on task and get more from your actions.
3. Give yourself a break – You aren't going to be able to keep up with every single Tweet, comment, blog post, or Facebook update. It's impossible. So, give yourself a break. Don't let it consume you. Just make sure you do the best you can in the time allotted for using it.
4. Don't let it interfere with your personal life – You have to keep your work and personal life separate. That's all there is to it. Your partner doesn't want to see you on your smart phone all night long Tweeting your heart out. Get a life! You'll be glad you did.
5. Stop following the people you don't like – Let's face it, there are a lot of Negative Nancys online. It can get old reading their complaints and opinions all day long, every day. So, stop following them. If you don't like someone, don't put up with them. Create a more positive online experience for yourself.
6. Stay in touch with people in real life – It can be easy to slip into the trap of only keeping in touch with everyone through social networking sites. But the truth is there's no substitute for real human interaction. So, pick up a phone or schedule a time to meet with your friends and important contacts.
7. Handle criticism with class – Everyone gets to share his and her opinion through social media, and sometimes, there will be people who disagree with you. How you handle the negative comments is extremely important. Don't get overly defensive or involved in a fight. You'll lose the respect of your audience.
Have you suffered social media burnout?
This article is written by Mickie Kennedy, founder of eReleases (http://www.ereleases.com), the online leader in affordable press release distribution. Download a free copy of the PR Checklist – a 24 point list of Press Release Dos and Don'ts here: http://www.ereleases.com/prchecklist.html