Now's the time. Sink or swim. The final countdown. Lay down all the marbles, or chips, or whatever you're currently holding.
When you're planning a PR strategy, there comes a time right before you launch it where you second guess yourself. It's the same with any big project, really; there's the fear of rejection and that people will take a look at what you've done and say, "Are you kidding? This is awful!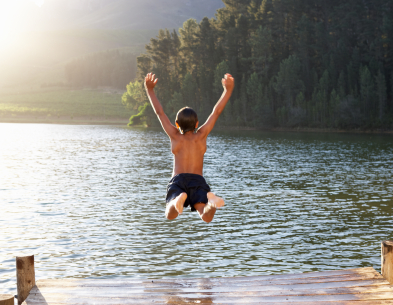 But there's only so much time you can spend worrying about the backlash or lack of "lash" in general. Eventually it becomes apparent that you need to, um, evacuate or get off the pot. If you don't, you risk second guessing yourself right out of a business.
When to Jump
It's not like I don't understand – fear of rejection or failure is a terrible one. It can cripple the strongest people in the world once it gets in their brain. There's nothing to lift, push, punch, or break; it's all a mental and spiritual game.
So there's something to be said about a business owner or PR pro who takes the leap and just goes for it. No matter how simple the "leap" is it still takes an amount of courage to put yourself out there.
How do you know when to take the leap? Honestly, it's all about planning and knowing exactly what you want. The more you know and understand about your PR plan, the better an idea you'll have when you should just execute it and not worry about the consequences. The less you know and understand, the more inclined you'll be to freak out when it's time to push the button.
The Backlash
If you're still worried about the possibility of failure in the eyes of the public, you could always take a little extra time to boost your customer service and backup plans. If you know going in that there's a possibility customers will balk at what you've done, try to think of ways to counteract it before it happens.
For instance, if you're worried about the public reacting badly to a brand new Facebook and Twitter promotion, figure out what your response will be if it happens. Maybe your customers will complain about signing up for social media websites they don't normally use to get good deals. In this case, let them know the promotion will also be available with an email list if they're so inclined.
These backup plans can give you some added confidence when it's time to unleash your plan to an unsuspecting world. Of course you can't plan for absolutely everything, but some preparation is better than none. Just make sure you don't accidentally overplan your backup plan and get stuck anyway!
Do you typically get nervous before launching a new PR plan?
This article is written by Mickie Kennedy, founder of eReleases (http://www.ereleases.com), the online leader in affordable press release distribution. Download a free copy of the PR Checklist – a 24 point list of Press Release Dos and Don'ts here: http://www.ereleases.com/prchecklist.html