During the month of April, everyone was focused on going green. With Earth Day, there were the usual conversations about recycling and reducing waste. It got me thinking. These concepts don't just apply to physical products. Recycling and repurposing can be applied to everything, even press releases.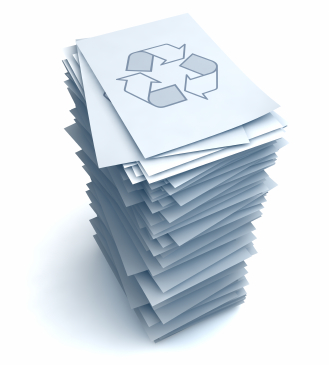 Let me explain. You write up a press release. You use press release distribution services to send it out to a list of targeted reporters. If you're lucky, your story gets some traction and earns some decent media coverage, but then what? That press release is done. It no longer serves a purpose.
That's not the case if you recycle it. By repurposing your press releases, you can get more from your content. Here are some easy ways you can do it.
Post the news on your website – Last week, I talked about how a lack of news can make your company look outdated. Customers like to know that they're doing business with active companies who are on the cutting-edge of their industry. Posting the latest company news on your website shows buyers your company is active and relevant.
Send it out in your email newsletter – Email marketing is still one of the most effective methods of direct marketing. Sending out monthly newsletters can help you keep customers engaged and coming back. Of course, you need content for your newsletter. Here's an idea: Why not put your news in it? Take snippets from your press releases, and share them with your email subscribers.
Turn it into an article – Article marketing is a great tool for building your authority, driving traffic to your website, and increasing your search engine rankings. Most press releases can be tweaked slightly to work as articles for distribution. Just change up the format, and make sure the piece isn't promotional. You'll have a new article on your hands!
Use it for a blog post – All blogs can use fresh content. By turning your press release into a blog post, you give your readers new material, and you stave off writer's block for another day. That sounds like a win-win to me.
Enjoy the SEO benefits of press releases – Optimizing your press releases can help your website enjoy better search engine rankings. So, whether you're placing the repurposed release in your news section, as a blog post, or offsite, make sure you target top keywords and use keyword-rich links to get the maximum SEO benefits from your content.
What are some other ways you can repurpose a press release? Share your best tips by leaving a comment.
This article is written by Mickie Kennedy, founder of eReleases (http://www.ereleases.com), the online leader in affordable press release distribution. Download your free copy of 7 Cheap PR Tactics for Success in Any Economy here: http://www.ereleases.com/7cheaptactics.html