Puppies? Isn't the Internet all about cats? While that is undoubtedly true, puppies are still near and dear to our hearts with their adorable ridiculousness.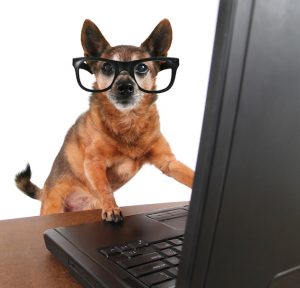 Plus, the other day when I was taking my dog out for the four billionth time I realized there was a lot puppies have in common with social media users. Watching her behavior reminded me of the people I deal with and even educate on a daily basis. Don't believe me? Let's take a look and see if you agree.
Walk Back in the Door 
Do me a favor: walk your puppy to the door, pat them on the head, specifically tell them goodbye, and walk out the door. Go walk around the corner for a while or drive to the store and come back. When you walk in the door, what happens?
Of course the puppy loses its mind. The slightest break from you means a chance to greet you when you walk back in.  They don't see it as "oh, you're here again," it's literally like they've never seen you before and they are super pumped you get to play some more.
When you really have your customers on the hook, every time you pop up with a new update they'll get super pumped. I know because I'm the same way with a sports team I like; I truly get excited when they update.
Distractions 
I won't say I'm a professional dog trainer, but my puppy knows basic stuff. She can sit, lie down, stay, and even knows when I want her to go grab her ball. However, there's one command she has trouble with, and that's "get your butt over here."
Right in the middle of having lots of fun with her ball she'll find a phantom smell, or see a weird flower, or something else will distract her and off she goes. No amount of "here!" will do the trick. Sometimes I'll even have to walk over, grab her ball, and wave it in front of her face to get her back on track.
Your social media fans are just like this (as are most people on the Internet). Any distraction and you practically have to shout in front of their face to get them back on track. This is why it's so important to stay in your fans' minds; otherwise they'll get distracted by a smell or funny flower.
Tail Wagging 
Before I had a puppy around me 24/7 I had no idea that a tail wag could mean so many things. You would assume it means they're happy and content but it's just not true. There are sad tail wags, and angry tail wags, and anxious tail wags – the list goes on and on.
Likewise, you want to assume the messages you're getting on social media are representative of one emotion or groupthink, but it's not always the case. For example, announcing a new product release could give you lots of positive messages, leading you to think everything is great. However, this could also make you accidentally ignore all the "please help me with my problem" messages you're getting in the meantime, leading to some angry customers. Make sure you acknowledge the tail wag but use other context clues to figure out what the whole story is!
How else would you say puppies are like social media users?
This article is written by Mickie Kennedy, founder of eReleases (http://www.ereleases.com), the online leader in affordable press release distribution. Download your free copy of 7 Cheap PR Tactics for Success in Any Economy here: http://www.ereleases.com/offer/7cheaptactics.html