You have a newsworthy topic, but it's a little more complicated than the annual Firefighter's Charity Picnic or the introduction of a new line of widgets. When a one page press release just won't be enough to do your story justice, but you're worried you'll turn reporters off from an overly complex story, include a fact sheet.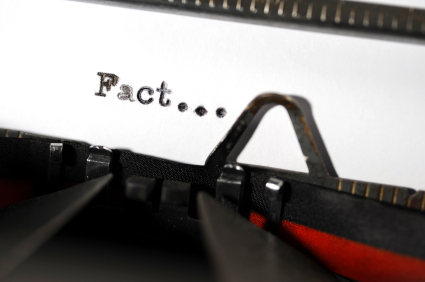 Just the Facts
A fact sheet is just what it sounds like a – a list of facts, anecdotes, quotes, and historical data concerning your newsworthy story. Unlike a traditional press release, which should be no longer than a page, a fact sheet can be several pages long.  Sending a fact sheet along with a press release allows you to kill two birds with one stone – pique a reporter's interest with the press release, then provide them with all the information they need for an in-depth article with the fact sheet.
Reporters Under Deadline
It's a reporter's job to check her facts, but a fact sheet provides a great jumping off place for her to get started on an in-depth story.  Keep in mind that reporters work in a deadline-based environment. Even if your story is about the next great breakthrough in biogenetics, if she does not understand the topic, it is unlikely that she will spend the time to research it on her own unless she works for a highly specialized media outlet.
Even if your topic isn't necessarily complicated, you can still send a fact sheet.  You may simply have loads of useful information and want to make sure that a reporter gets the facts quickly and with minimal fuss. Just remember to make sure that each point on your fact sheet matters.  You can provide an encyclopedia's worth of facts, but if a story is not newsworthy, no reporter will touch it.
Your Facts Must Stand Up to Scrutiny
Lastly, it is important to guard against bias or misinformation in fact sheets. Reporters will check out your facts, and if they do not add up, you will lose credibility with their media outlet. Worse, the reporter is now armed with facts to write a counter story or a story about your competition.
Fact Sheet Mechanics
Fact sheets should include a list of facts, anecdotes, quotes, and historical data. Each point should consist of one tightly written sentence or paragraph. Quotes and statistics should be timely and no more than a few months old.
Fact sheet formatting is similar to press release formatting.  Include a bold heading with a concise description of the fact sheet. (Example: "Facts on the Effects of Global Warming in South Africa.") Pages should feature wide margins. As with a traditional press release, you should include your contact information on the first page, and type "MORE" several times along the bottom of each page until you reach the end of the fact sheet. Also, as with a press release, the symbol "###" indicates the document is at its end.
This article is written by Mickie Kennedy, founder of eReleases (http://www.ereleases.com), the online leader in affordable press release distribution. Grab your free copy of the Big Press Release Book – Press Releases for Every Occasion and Industry here: http://www.ereleases.com/press_release_samples2.html