Just in case the world doesn't end in December, businesses everywhere still need to plan for a (very likely) future that includes 2013 existing. It's right around the corner after all and you don't want to be caught unprepared for what's to come in the New Year!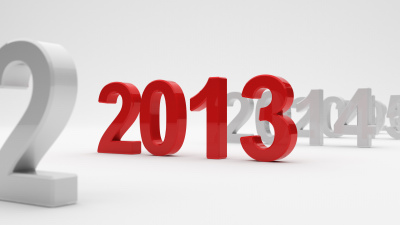 Right now some of us are swamped due to the holiday season, while others are experiencing the inevitable winter/end-of-year slowdown. Whether you're in feast or famine, it's a great idea to get started charting your course for 2013 right now.
Recovery
Part of the early part of a new year involves recovering from the very same holiday season rush you just enjoyed. Immediately the day after Christmas you'll start getting complaints, questions, and comments coming from every direction. Facebook, Twitter, email, phones – everything will be filled with messages waiting for you to answer.
Plus, you have to start the recovery of your inventory and switching back to your "regular" way of running your business. For example, if you switched around your website for the holidays, you'll want to switch back after all the madness is over. These things take time and need planning or you may goof something up in your haste.
Future Direction
The sales you accumulated during the latter part of 2012 can give you a fairly clear idea of what to expect in 2013. You no doubt will discover many things you had no idea were big sellers and were surprised at some products that didn't move at all. You may have even found a totally different outlook for your business when it comes to PR.
If you don't take time to plan ahead for the New Year, you may end up getting stuck selling and running your PR just the way you did before the holiday rush. Obviously you haven't made the discoveries yet, but you can at least do some pre-planning like scheduling time to work on different parts of your business. Perhaps now you'll have time to redo your website, for instance.
PR Focus
A potentially more important set of data you can collect from your time in the trenches during the holiday season is exactly who your crowd is. Not only that, you may have increased your customer base by quite a bit; instead of just working moms in the Midwest you now have reached skaters in New York.
No matter who your new group is, you have to start figuring out how to speak to them. Now's the time to collect any pre-data you have before the final big weeks to see who has already purchased from you. In fact, this information could potentially help you in the weeks to come as the holiday sales heat up!
Have you already started prepping for 2013?
This article is written by Mickie Kennedy, founder of eReleases (http://www.ereleases.com), the online leader in press release writing and distribution. Download the free whitepaper The Ultimate Guide to Pinterest here: http://www.ereleases.com/insider/pinterest.html