When you break down public relations, the art of communication is at its core. Who are the most talented communicators? Storytellers.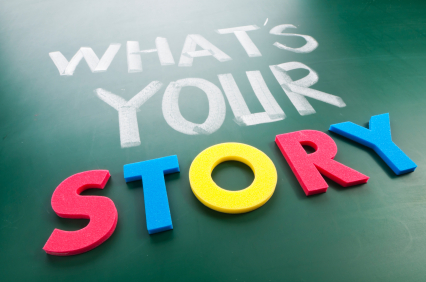 The art of communication in the form of telling a compelling story pre-dates history. When we were all cavemen, did we sit around the fire at night to listen in fascination to the daily exploits of the gatherers and harvesters?  No. We listened to the storytellers, the ones who could entertain us, pass down legends and folklore, inspire us with stories of heroes and conquerors, motivate and inspire us to become a legend ourselves, one told by our beloved storytellers. When it comes down to it, we all just want to be well remembered.
How Do We Make Sure We're Remembered?
Think of your favorite book or your favorite movie. What is the basic outline of the story? What is the plot? The script? Ask yourself questions as to why this story is so influential. Now ask yourself the exact same questions about your marketing and public relations.
First of all, who is your target audience? How do you want this target audience to feel? Who are the key characters in this story? What is the plot line, or how did you get to the point where you are right now? What is the climax or key success point? And last but not least, what is your conceivable happy ending?
Just like any successful film, an outline is necessary to see the story through to the end. You can't write a script without knowing where you are going to go. Plot out the steps that are necessary to be successful; don't just run headfirst into an unforgiving public.
Make your audience love you, just like the main character of your favorite movie. Make sure you tell a story that will make them connect with you and come back to you again and again.
Make It Interesting
Don't forget, the best stories have just as much turmoil, drama, and twists and turns as they have happy, warm and fuzzy feelings. Don't get discouraged if all of your public relations endeavors aren't successful. Expect a few roadblocks and pitfalls along the way. Learning from detours and u-turns is what gives you the ability to be able to stop and smell the roses.
Take a good look at your marketing and public relations. Is it interesting? Intriguing? Would the story of how your business successfully "made it" in the advertising world make a good movie? If not, then maybe you just haven't asked the right questions of your business's promotion tactics. Grab a blanket, pop some popcorn, and curl up on the couch with a pencil, eraser, and an outline of your public relations strategy.
Who knows? Your business just might become the star of this year's breakout, cutting-edge blockbuster.
This article is written by Mickie Kennedy, founder of eReleases (http://www.ereleases.com), the online leader in affordable press release distribution. Download your free copy of the Beginner's Guide to Writing Powerful Press Releases here: http://www.ereleases.com/insider/beginnersguide.html