When most people hear someone mention SXSW, they probably think of the film festival or all the music and partying that goes on there. However, the mega event known as South by Southwest is more than just a big blowout gathering. In recent years the newest component of SXSW – SXSW Interactive – has taken over as the best attended portion of the festival. Due to its three-pronged nature – music, movies and internet – SXSW is known the world over as a place where representatives from all forms of media gather to talk about the industry.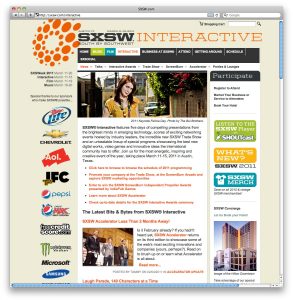 This of course includes public relations. In fact, the PR industry is well represented at the SXSW, and it grows every year. Thus, there are a myriad of reasons for any PR pro to head to Austin in March.
Panels
One of the best places to start at SXSW is with the wide variety of panels. There are always incredibly interesting and informative public relations topics covered, led by experts from around the world. While the final schedule has yet to be revealed for this year's event, you can be guaranteed you'll never want for creative classes and discussions.
Take some of the proposed topics and leaders:
Score PR for Your Start-Up On the Cheap, Erik Deutsch (ExcelPR Group)
#FAIL: Infamous Social Media PR Disasters, Marla Erwin (Whole Foods Market)
Brand Journalism: The Rise of Non-Fiction Advertising, Kyle Monson (JWT)
And that's just the tip of the ice-berg. With the event lasting over a week, you'll easily get your fill of panels. But don't forget to take time to:
Network
Get out of those stuffy rooms and strike up some conversations of your own! But how in the world do you find like-minded people to chat with in a sea of faces?
Well, you're a PR pro who is no doubt familiar with the world of social media, so get out there and pre-network! Find some groups on Facebook and Twitter interested in PR or folks just headed to SXSW and arrange times for meetings. Also keep an eye out for people who have been around the big Austin festival before. They may have tips for finding your way around and could possibly serve as guide when you arrive in March.
After you get to the big show, make sure to check in on your social media sites that you've arrived. Look for recent hashtags on Twitter regarding the festival – you may find some friends that way. You may even be in the same hotel! Another useful service is Foursquare. They have specific badges you can achieve by checking in at certain places at SXSW. These could also show you which of your PR pro colleagues are at the same show or panel.
And yes, it must be said: hit up some parties! Keep it in moderation, but the social gatherings are part of the SXSW experience. In all honesty, you could end up doing some of your best networking there. Just remember to keep your game face on!
This article is written by Mickie Kennedy, founder of eReleases (http://www.ereleases.com), the online leader in affordable press release distribution. Download your free copy of 8 Shocking Secrets Press Release Distribution Firms Don't Want You to Know here: http://www.ereleases.com/landing3.html