You aren't any different than anyone else. You want your company (or your client) to grow. You can achieve this in a variety of ways. One of them is by getting media coverage for your products, services, and events.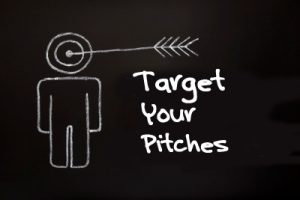 However, getting that coverage isn't always the easiest thing to do. The truth is, most of your pitches will probably not get accepted. Unless you're lucky of course. But should that stop you from sending them? Nope. Seemingly insurmountable odds don't keep people from buying lottery tickets, do they?
So how can you get that pitch noticed? Well, there are a million things you can do. But I want to focus today on one thing:
Reduce the number of pitches you're sending out.
Of course, that doesn't mean that you don't have a story that needs to be told. You just need to make sure you take the time to figure out exactly what that story is before you try and get people to tell it.
How Too Many Pitches is Hurting You
It's eating up your time. Composing a good pitch takes time. You have to research who you're sending it to. You have to put it together. You have to send it off. You have to follow up. When you an insane number of pitches on a recurring basis, you're simply eating up valuable time.
It's getting on editors' nerves. While you want to develop a relationship with editors, you don't want to be their annoying neighbor who won't go away. If you send them pitch after pitch, they're just going to view it as watered down garbage. How could you have that many stories, anyway?
It's not letting you stand out. Getting your pitch recognized isn't impossible. Yes it's hard. But not impossible. But editors are overwhelmed with many pitches. That being said, yours needs to stand out. However, if you're bombarding them with pitch after pitch, our name will be overlooked. But one or two strong titled pitches—that could get you noticed.
Spend Time Creating Specifically Targeted, Highly Personalized Pitches
Rather than sending out multiple mass pitches, spend a little time doing your research. Find out which editors and reporters would likely be able to use a story like yours. Once you have a short list, spend time composing personalized pitches. Don't let them sound generic. Give the reporter the feeling that you are targeting them specifically. You are offering them something one of a kind. Something the other guys will not get.
Are you developing personalized pitches? Tell us how you're going about it.
This article is written by Mickie Kennedy, founder of eReleases (http://www.ereleases.com), the online leader in affordable press release distribution. Download your free copy of 8 Shocking Secrets Press Release Distribution Firms Don't Want You to Know here: http://www.ereleases.com/landing3.html