There was once a shepherd boy who craved attention.  He grew bored and lonely tending his sheep every day, so one day he cried "Wolf!"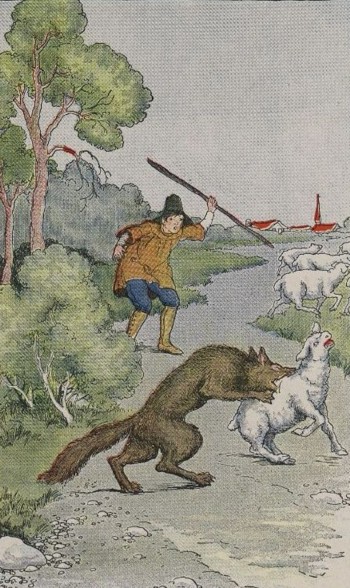 All the villagers dropped everything they were doing and came running to help, only to find that there was no wolf at all. The next day, the shepherd grew bored and lonely again and once again cried "Wolf!" This time, fewer villagers came to his assistance, and the ones that did grew very angry with him for wasting their time yet again.
You know what happens. The next day, a real wolf happened to show up, but when the boy cried "Wolf!" nobody answered, and the wolf gobbled the shepherd up.  Like a bad PR department, the Boy Who Cried Wolf buried the real news amid lots of fake news, but what happened when he really had something to say?
Nobody listened.
Like the Boy Who Cried Wolf, you too can write press releases that will alienate journalists and bloggers and ensure that your organization never, ever gets media coverage. Here's how:
1.)   Cry Wolf – Imitate the shepherd boy and send out a press release for every new product, personnel change, and employee picnic at your organization. Saturate your reporter contacts with press releases. They're happy to read through dozens of releases to find just one real newsworthy gem from your company.
2.)   Bury Your Lead – Journalists and bloggers are people with a lot of free time on their hands. They don't mind going over your press release with a highlighter and a fine toothed comb in order to find the real news. Feel free to throw a lot of stream-of-consciousness sentences on the page and rest assured that your news will show through. Somehow.
3.)   Make Contacting You Like a Scavenger Hunt – Forget traditional press release formatting and stick your contact information just anywhere. Better yet, only provide a company name, but no press contact, phone number, email or website. Reporters are resourceful and keep a whole staff of private detectives on hand just to track you down.
4.)   Advertise – Save time and money on press releases by lifting the wording directly from your marketing copy. Sure objectivity is one of the basic tenets of journalism, but journalists will never notice that your press release includes sales terms and calls to action.
5.)   Don't Bother to Prepare – Send your press release out the day before your main press contact goes on vacation. Better yet, encourage the press to get lost within a labyrinthine telephone menu or to contact an email address that you only check once per week.
Of course, if you're like most of us and want your press release covered, you probably won't be following the above advice. Still, before you hit send on that next press release, check your writing, check your facts, get ready, and by all means, make sure there's a real wolf among the sheep.
This article, written by Jennifer Escalona, originally appeared in PR Fuel (http://www.ereleases.com/prfuel), a free weekly newsletter from eReleases (http://www.ereleases.com), the online leader in affordable press release distribution. To subscribe to PR Fuel, visit: http://www.ereleases.com/prfuel/subscribe/.