I recently came across an article in Inc. magazine about a company (flower shop) who was penalized by Google because their SEO company was buying links on their behalf. Thanks to the SEO company's indiscretion and shady tactics, the flower shop's website, which had built up top rankings for valuable keywords, was now temporarily excluded from the search results. The bad part? Google traffic was the source of 80% of the company's revenue, and just like that, it was gone.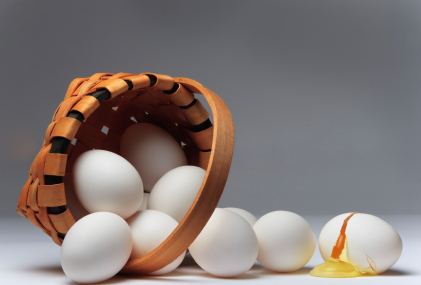 The article goes on to discuss how the company was forced to scramble and find new ways to increase brand awareness, drive website traffic, and earn quality leads and sales. That's when the owners of the flower shop owners realized the importance of diversifying their marketing efforts. For the first time, they started to build a strong social media presence, complete with blogging, Twitter, and Facebook marketing. They also purchased PPC ads to help boost their search engine presence, and they started building a strong affiliate program. And of course, they worked on getting their website included in the search results again and scrutinized all their link building practices carefully to avoid repeating the same mistake.
The result of all this? The company is now much better off. Not only are they back atop the search rankings, but thanks to their diverse marketing efforts, their presence is larger than ever before.
The lesson is one we can all take to heart—Never put all your marketing eggs in one basket. This doesn't just apply to search marketing; it goes for everything. If you only do TV advertising, what will you do if the price of airtime increases significantly? Or what if more and more people stop watching commercials thanks to digital recording?
Likewise, if your business relies solely on direct mail to generate leads, what happens when the cost of postage goes up again? Or what if more and more consumers just stop paying attention to "junk mail"?
Relying solely on one marketing channel might be enough for now. It might deliver more business than you can handle, and it might take your company to new heights. But it also might end up being the death of your company.
When you put all your marketing eggs in one basket, what happens when the bottom of that basket falls out from underneath them? Then what? By diversifying your marketing strategy and using multiple methods of lead generation, this isn't a problem you have to worry about. And in the end, your company will be stronger for it.
Take a look at your marketing efforts. Do you rely too much on one method?
This article is written by Mickie Kennedy, founder of eReleases (http://www.ereleases.com), the online leader in affordable press release distribution. Grab your free 160-page copy of the Big Press Release Book – Press Releases for Every Occasion and Industry here: http://www.ereleases.com/insider/bigbook.html