Social media websites have not only become a great way to increase business and awareness, they have quickly become the wave of the PR future. With access to so many people at once, it's impossible to deny the power and reach these websites provide. For this session, we'll highlight the business oriented LinkedIn.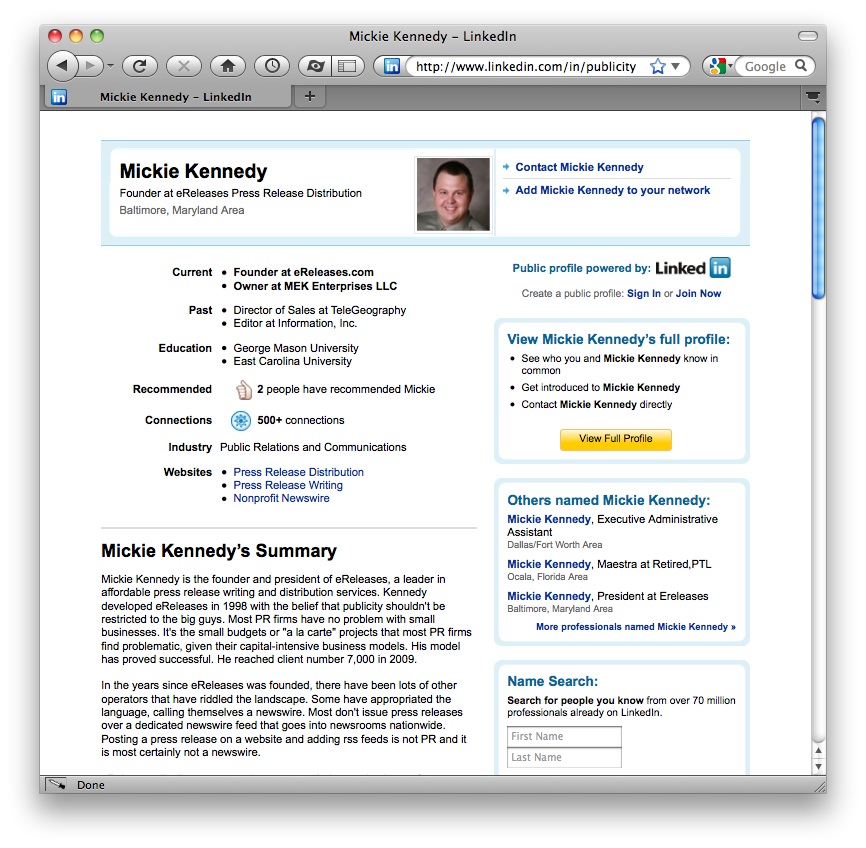 What is LinkedIn?
Unlike Facebook and Twitter, LinkedIn is the premiere website for the business minded rather than socially minded individual. The site lets users upload their work history, bio, pictures, and other relevant information pertaining to work. Friends on LinkedIn can recommend each other in short little blurbs that potential employers can view and read.
LinkedIn also has recently embraced the "social media" aspect of their site by adding a Twitter-like feed to their site (you can directly link to this to the real Twitter as well). Users can post links and other comments about their businesses. This helps keep correspondence with their friends and colleagues on the site as well as attracting new followers.
How is This Useful?
LinkedIn is useful to anyone in the PR biz. It's undeniably a great way to network; it's what the site was designed for, after all. Keeping up with your colleagues is a simple way to keep the word going about whatever it is you're promoting.
Also, as LinkedIn is more geared towards the business end of life, users on the site might be more inclined to share and correspond with you. The same posts and tactics on Facebook won't necessarily work on LinkedIn. Adjust accordingly, and you may see a sharp incline in hits, positive impressions and sales.
Of course, it's also extremely useful if you're in the search for that great new job or employee! Your high profile from your PR on the site could give you an extra advantage in the hiring process, whichever side you're on. Stay in the public eye and stay relevant.
How Can I Take Advantage?
Make and request referrals! Word of mouth has and always will be the best PR tool. Technically, it's the way social media sites work. Make it work for you by letting others do it for you through the referral system. Don't just rack them up aimlessly, however; a few solid recommendations will count more than a ton of aimless ramblings.
Now, use your expanded connection base to find some solid leads! Whether you're looking for a new database of clients or looking to get a better idea of what companies people are endorsing at the moment, a simple walk through LinkedIn's database can provide it. Utilizing the site to its fullest can provide increased business and better opportunities in the future with a few simple steps.
This article is written by Mickie Kennedy, founder of eReleases (http://www.ereleases.com), the online leader in affordable press release distribution. Grab three ebooks, including My Facebook Formula, a free report on Facebook and why you should be using the largest social network for your business, here: http://www.ereleases.com/insider/freebooks.html