Here's something you probably haven't realized. The "About Us" page is among the top three pages a potential customer is most likely to visit when first arriving to your website. But if you're like most companies, you've probably filled it with a brief bio and maybe a mission statement – something most people probably don't even get halfway through. Why? Because it's stale and unoriginal.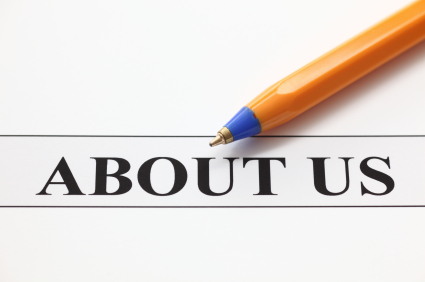 Fixing Your About Us Page
Sure you need the obligatory company info on your "About Us" page, but it shouldn't stop there. Here are a few pointers that will keep you from wasting this valuable space:
Employee bios – The goal is to make a personal connection in this area of your site. People like to do business with people they feel like they know. So consider having your employees write brief bios, including a bit of personal information. You might even add headshots of each. Let your clients get to know (and like!) the people behind the brand.
Interesting facts – Want your client to really get to know your company? Well, you're going to have to dig deeper than the standard "Starting in 1994, blah-blah-blah." Come up with a list of interesting, not-so-well-known facts about your company and include them in your bio. That means, don't be afraid to toot your own horn!
Get social – Think your blog is the only place to include social media links? Think again! Make sure you stick them on your "About Us" page. Also link to your blog. You might even consider sticking a video on the page so your customers can see and hear you. Again – a more personal approach.
Get human – The bottom line is that your customers need to see a human side to your company. No one wants to deal with a faceless corporation. They want to connect and feel like there are real people on the other end who care about who they are and what they do.
Is your "About Us" page stiff and simply boring? It's time to give it a makeover!
This article is written by Mickie Kennedy, founder of eReleases (http://www.ereleases.com), the online leader in affordable press release distribution. Grab your free 160-page copy of the Big Press Release Book – Press Releases for Every Occasion and Industry here: http://www.ereleases.com/insider/bigbook.html