The pathway to success has many doors you must open. However, they aren't in a straight line by any means. Have you ever played a video or board game where you start out in a central hub and have to find a key or treasure in surrounding hallways? Finding success is a lot like that.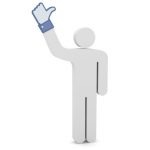 One of the doors you must unlock is the social media door. It's a recent addition to the maze of success but quickly became a very crucial one. If you don't unlock the social media door, you're missing out on quite a bit of treasure!
If we are to stretch this metaphor as far as it will go, then the way to open the door is a handle – and that handle is Facebook! Facebook is the easiest and most direct way to start your social media campaign and can lead to greater things for your business.
Why Facebook?
Out of all the social media outlets available, why is Facebook the door handle? Simply, it's one of the most direct routes you can take to reach your customers. Facebook can become a "one stop shop" for your business if you update it correctly.
Not only can you converse with your base, you can upload pictures, run a chat forum, and even create a simple store front. If you really want to talk directly to visitors, record a video and put it on your Facebook page.
Twitter, while obviously very useful, just doesn't provide the same experience as a Facebook page. If you wanted to provide all the items listed above, you would have to tweet links to them constantly! Not to mention, Twitter has far fewer members than Facebook's 500 million.
Of course, there are other social media outlets like Facebook. However, they are nowhere near as "complete" an experience. The biggest issue, though, is these other sites are also not nearly as big as Facebook, so you don't have the automatic numbers to justify all your hard work.
Opening the Door
After you use Facebook to open the social media door to success, you can integrate other forms of social media into your campaign. Assembling a dedicated fan base on your Facebook page makes it easy to get followers on Twitter and LinkedIn, as well as readers on your blog and even chat forums.
Opening the social media door through Facebook also provides an opportunity to broaden your horizons. When you get instant feedback on your product and customer service, you're able to fine tune everything about your business and discover your niche. It's really a great route to go and gives you a head start on the rest of your business career!
How have you made the most of your Facebook door handle? Share your tips!
This article is written by Mickie Kennedy, founder of eReleases (http://www.ereleases.com), the online leader in affordable press release distribution. Grab three ebooks, including My Facebook Formula, a free report on Facebook and why you should be using the largest social network for your business, here: http://www.ereleases.com/insider/freebooks.html