What's the point of nailing your media interview if no one notices it or cares about it? Your goal should be to get as many people talking about your interview as possible. These interview opportunities don't always come so easily, so it's important that you get as much as you can out of every one of them.
How can you get people talking about your media interview?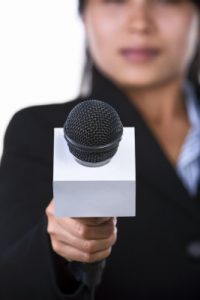 Promote the Interview in Advance
While you can certainly post and share the video or audio of your interview for people to share after it has aired, you want as big of a live audience as possible. Think about what it's like on Twitter or Facebook during a big event like the State of the Union address or when a hit TV show is airing. That's what everyone is talking about while it's happening. These things become trending topics in real time, but they also have a limited shelf life.
That's why you want as many people watching your interview while it happens, so they can discuss it as it is happening. Promote your appearance in the days leading up to it. Post reminders about it on your social networks, create an event, send out info about it to your email list, etc. The more buzz you can generate about your interview, the better.
Create a hashtag for your interview
Another way to spark the conversation for your media interview is to create a hashtag for it. Let's say you're lucky enough to be getting interviewed on Piers Morgan Tonight. You might create and promote the hashtag #(your name)onPiersMorgan, encouraging your followers to tag their comments on the interview accordingly. This does a few things:
It makes your interview feel like a special event
It keeps the conversation organized
It connects your audience
It helps generate buzz
Speak in Tweets
Think of the things people Tweet when they're watching something on TV, like a speech or an interview. They typically Tweet short quotes, and maybe they add their own little comment to it.
You need to keep that in mind when you're being interviewed. Your messages should be short, simple, memorable, and consistent. Try to focus on providing Tweet-worthy sound bites that people will feel compelled to share and discuss with others. Stay on message so that when people are talking about your interview, they're helping to spread your main message.
Post the interview online
After your interview has aired, post it up online and promote it again. Share it on your social networking profiles, email it out to your list, talk about it on your blog, post it to your news room, and do whatever else you can to keep people talking about it.
What are some other ways you can get people talking about your media interview? Share your tips by commenting below. 
This article is written by Mickie Kennedy, founder of eReleases (http://www.ereleases.com), the online leader in affordable press release distribution. Download your free copy of 7 Cheap PR Tactics for Success in Any Economy here: http://www.ereleases.com/7cheaptactics.html