You've probably heard the saying, "It's not what you know, but who you know that counts." And that's mostly true. But personally, I take it a step further and say, "It's not who you know, but who knows you that counts."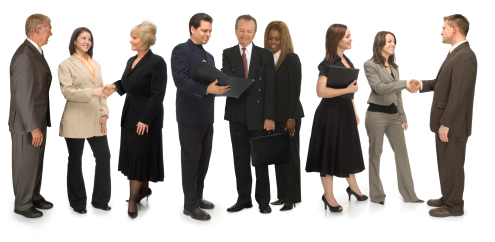 Simply put, if you want to be successful, people need to know who you are. And often times, that requires effective networking – both online and in person.
But networking is about more than just shaking hands, giving out business cards, and shouting your elevator pitch at anyone who might listen. To be a more effective networker, you need to follow the tips listed below.
Ditch the script – Yes, it's important to have an elevator pitch prepared and to make sure the people you meet know who you are and what you do, but you don't want to sound like a robot stuck working from a script. Natural conversation is always better for building relationships than any pre-planned speech you could come up with.
Make everyone feel important – Networking isn't all about you. For a relationship to grow, both parties need to be getting something out of it. That's why you need to make everyone you meet feel important. Show a genuine interest in what they do, and help them out if you can, because they'll likely return the favor.
Be a good listener – When you're out networking, it's instinctual to tune the other person out and wait for your turn to talk. But if you do this, it will show in your face, body language, tone of voice…everything. So not only do you need to be a better listener, you need to also show that you're a better listener.
Find common ground – Take a look at your personal life and the friends you have. Why are you friends with certain people? It's usually because you share common interests. Apply this to networking. Find common ground and shared interests with the people you're networking with. Even something as simple as being fans of the same football team can be helpful for building rapport with a contact.
Be patient – Networking success doesn't happen overnight. If you don't start immediately seeing results, don't worry – it takes time. You're building relationships, and it takes time to earn the trust and awareness of the people you meet. As long as you focus on the other tips on this list, things will start to pay off over time.
Seek quality, not quantity – Networking isn't about how many people you can meet. It's about how many of the right people you can meet. Focus on targeting the right people with your networking efforts so that you don't waste time on others with whom there will be no benefit.
What other networking tips would you add to this list? Share your best tips by leaving a comment below.
This article is written by Mickie Kennedy, founder of eReleases (http://www.ereleases.com), the online leader in affordable press release distribution. Grab your free 160-page copy of the Big Press Release Book – Press Releases for Every Occasion and Industry here: http://www.ereleases.com/insider/bigbook.html