By commenting on other blogs, you can build goodwill and boost your public perception. On the other hand, if you don't handle yourself carefully, you can do grave damage to your brand. Below, you'll find some tips on how to use blog comments to boost your PR efforts rather than detract from them.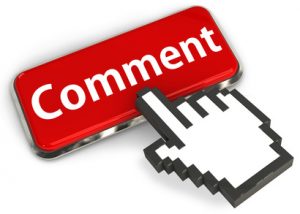 If It's Clear You're Just Looking to be Noticed, People Won't Like You
First and foremost, it's always obvious when someone comments just to put their name out there and get a link. These comments typically take one of the following forms:
Great job—No substance whatsoever. While blogging should inspire conversation, you're adding nothing to any sort of discussion. In fact, you may not have even read the post you're commenting on. You're just a self-serving guy looking for an opportunity to gain notoriety by simply appearing on someone's blog. Guess what? Everyone knows it, too.
You're wrong—I'm not saying you can't disagree with someone. On the contrary, if you disagree, I urge you to comment. However, there's a big difference between someone who respectfully disagrees and calmly explains their rationale and someone who is obviously there to cause controversy. We call these people trolls. Is that the label you want for the face of your company?
Commenting isn't about pushing your own agenda. It's about being part of the community. Once you get in, legitimately, then people are going to notice you. Any attempt to take shortcuts will prove futile.
Be Knowledgeable without being an A-hole to become an Expert
You can do some positive PR work through posting frequent, insightful comments. Whether in agreement or disagreement with the blogger, your insight will be welcomed by all readers if it adds useful information to the conversation. This is especially true if you're offering info that's not readily known or not easy to come by. And this shouldn't be too hard for you if you're commenting on the right blogs (blogs that are connected to your industry).
Let me give you an example. Say you are the owner of a company that makes t-shirts. You're reading a blog that's based on DIY t-shirt design. Well, since you likely began that way and grew your business, you probably have insight that the beginning DIY-ers do not. After all, you've been there, done that. Therefore, you can quickly become a valuable resource to those just starting out. Maybe you know a better way to make shirts. Maybe you have insight on how to get boutiques to carry your design. Give the info away and watch people get interested in you and what you have to offer.
Pick the Right Blogs to be On
Of course, you can't add to the conversation if you aren't on the right blogs. If you're posting on blogs that aren't even related to your industry, well, you aren't doing much for your PR, good or bad. Why? Because the people you're talking to aren't even interested on your brand or what you do. Translation: you're wasting your time and PR efforts.
Do you comment on other blogs? Do you feel as if you've been helping your image by doing so? Tell us about it. 
This article is written by Mickie Kennedy, founder of eReleases (http://www.ereleases.com), the online leader in affordable press release distribution. Grab three free ebooks, including the Big Press Release Book and Twitter Tactics, here: http://www.ereleases.com/insider/freebooks.html