Hiring the Right Customer Service Agents to Represent Your Brand
Your customer service agents are your front line employees. These are the guys and girls who will be dealing with your customers on a daily basis…the ones who will be making first impressions that can win or lose new customers…the ones who will be responsible for talking an angry customer down and saving them from leaving.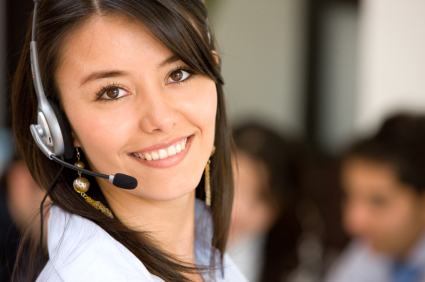 Simply put, the customer service agents you hire are of the highest importance. The fate of your company depends on them. Use these tips to make sure you hire a staff that will help your business grow, not die.
Hire only the best employees – Okay, I know this is an obvious statement, but let me explain. Too often, companies carelessly hire employees and try to manage them into performing to their expectations. The problem is that if you hire an F-grade employee, no amount of managing will turn him into an A-grade employee. That's why you need to truly focus on hiring the best of the best from the beginning, and then, you don't have to worry about managing them up to your expectations.
Find people who are truly interested in the job – If you hire a customer service representative who is just looking for a job or has other aspirations, you're begging for trouble. Don't just place anyone on the front line with your customers. Choose friendly applicants who are truly interested in customer service. Make sure this really is the job they want to do, not the job they need to help them move into something else.
Do it yourself – A lot of companies use employment agencies and headhunters to find candidates to fill open positions. Sure, this will save you time, but will it really find you the right person for the job? Probably not. The simple truth is no headhunter understands what your business needs better than you do. You understand the personality of your business and the type of customer service experience you want to create. That's why you need to have a hands-on role in the entire hiring process.
Make sure all expectations are clear up front – From the very beginning, candidates need to know exactly what the job entails and what your performance expectations are. This way, there are no misunderstandings. They know what you want, and they know whether or not they're capable of delivering.
Check those references – Too many times, employers don't ask for references or don't actually check references when they get them. Get on the phone. Call up those references and see what they have to say about the candidate. This little bit of research can be very helpful for determining if the applicant is really the right fit for the position.
Be picky – Even if it takes you twice as long to find the perfect employee, I say take the extra time to do it right. Be very picky. Customer service makes or breaks companies every day. The candidate has to be perfect.
Have a strong training program – Don't just forget about your employees once they've been on the job for a while. The secret to truly remarkable customer service is to continue training your employees. Reinforcing your expectations, reviewing key concepts on a regular basis, and putting in the effort to further the knowledge and skills of your customer service staff can pay off big time.
How do you make certain you hire the right customer service team at your company?
This article is written by Mickie Kennedy, founder of eReleases (http://www.ereleases.com), the online leader in affordable press release distribution. Download your free copy of 7 Cheap PR Tactics for Success in Any Economy here: http://www.ereleases.com/7cheaptactics.html