The blogosphere is filled with so many stagnant blogs that it often feels more like a virtual cemetery than anything else. Why? Well, what usually happens is people get all fired up, start their blog, and come out swinging. But all that wild swinging leaves them fatigued and the next thing you know, they're too tired to keep going. Then the blog dies off.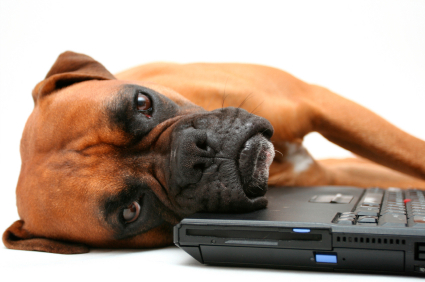 Now, especially in the case of a business blog, it's crucial that you keep it going steadily. As soon as your readers get even a small inkling that you're turning inconsistent with your content, you've lost your audience. But how can you be sure you've lost that passion? Here are a couple of key indicators:
The posts get shorter and then quality diminishes. Typically, before your business blog goes extinct, it will become obvious that things are winding down and you've lost interest. This comes in the form of multiple brief posts that lack any real substance. The problem here is that it screams that the passion has left and your blog is nothing but an afterthought.
You simply rehash your old posts. Article spinning is no new concept. Search engine marketers have been doing it for years to build cheap links across the web. And while the merit of such a practice is questionable at best, you certainly don't want to try it on your blog. However, many bloggers who have lost that spark turn to simply spinning their old posts to get new content. But the problem is, the "just get new content" mentality shows that your business blog is already going the way of the buffalo.
Admittance is the First Step
So you've decided you have assuredly lost your passion for blogging, but you know that keeping up with your business blog is important for your public perception as well as pulling in new leads. Now what?
Since you've already admitted the problem to yourself, you're in a better place than many. That means you are willing to take the steps to fix it-good for you! A few things you can do to rekindle that flame are:
Read other blogs in the field to get ideas.
Block off a bit of time each day to work on posts.
Engage customers on Twitter to see if you can get ideas from them.
Look for guest posters to contribute.
Have you lost that passion for blogging? Don't worry—you can get it back!
This article is written by Mickie Kennedy, founder of eReleases (http://www.ereleases.com), the online leader in affordable press release distribution. Download your free copy of 7 Cheap PR Tactics for Success in Any Economy here: http://www.ereleases.com/7cheaptactics.html