Between Facebook, Twitter and the like, it seems everyone wants to keep tabs on what their friends are doing. Now with programs like Gowalla, you can even keep a bead on where your friends are at all times. Is this cool or scary? We'll let you be the judge of that. But no matter what your opinion of an "electronic leash," it pays to know about this new technology.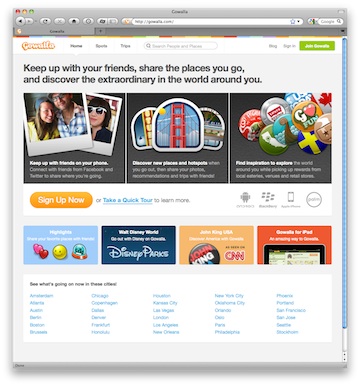 What is Gowalla?
Like the slightly more popular FourSquare, Gowalla is an application that lets you "check in" to a business you visit. Say you frequent a nearby sushi restaurant. Using Gowalla, you check in that you're eating there. Other users notice you frequent the restaurant and decide to check it out. Then, they start checking in, leading to more customers, and so on.
Gowalla also lets you post "trips." Maybe you're a resident and want to highlight some of your favorite places. You list a great movie theater, a fun night club, an all night diner around the corner, plus a handful of other interesting places to check out. Visitors to the city can use Gowalla to plan their own trip based on these recommendations.
How is This Useful for Businesses?
This allows businesses to get the word out about their establishments with little effort. Users will recommend their favorites and their friends and other users will check the place out due to word of mouth. Then, businesses can even start giving away coupons and rewards for Gowalla users that check in at their establishments. When people hear about the promotions, they will go and check out the business, and the cycle continues!
How Can I Use Gowalla?
Since Gowalla does part of the job for you, the only thing left for a PR pro is to figure out how to optimize the application. The first step is to make sure the business is listed! People can't find you if you don't exist.
Make sure your clients know about Gowalla and its rival FourSquare in the first place, as they are still in the "gaining steam" stages. And make sure customers know to check in if they use the application; a sign or perhaps some cards on tables around the establishment is one simple way to make this happen.
Also, make sure your business uses the "awards" system as detailed above. It doesn't have to be anything huge, either. A simple free drink or maybe a button with your company logo (even more promotion!) will suffice. This is a really easy way to ensure not only repeat business but the recommendation system of Gowalla can easily double your customers in no time.
This article is written by Mickie Kennedy, founder of eReleases (http://www.ereleases.com), the online leader in affordable press release distribution. Grab three free ebooks, including the Big Press Release Book and Twitter Tactics, here: http://www.ereleases.com/insider/freebooks.html