Want to take better advantage of the situations you find yourself in with your public relations efforts? The better you know what lies ahead for you the more prepared you'll be. You can't be fully prepared, though, if you're not using your calendar!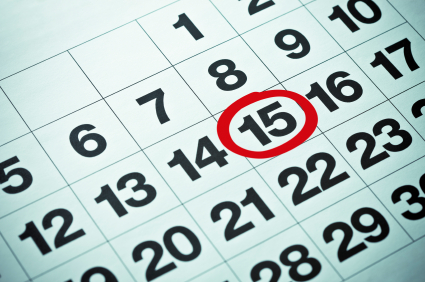 There are two main reasons why you should be fully utilizing your calendar. For one, you'll know when important dates come up so you can use them for promotions. Secondly, you'll simply be ahead of the game.
Promotion Opportunities
There are countless opportunities for you to come up with great promotions for your business all throughout the year. We tend to think of the big holidays like Christmas or Fourth of July for big moneymaking deals, but if you put your mind to it you can find tons of ideas.
For example, we just passed the "shortest day of the year." It's the day when there is the lowest amount of sunlight, right in the middle of winter. If you had remembered, you could have used that day to promote your long-lasting batteries for the many hours of darkness ahead.
Instead, it passed you by, like so many other opportunities you don't have on your calendar. Even "minor" holidays like St. Patrick's Day or Columbus Day can be used to your advantage. However, they tend to sneak up on us as they're not blasted on TV and on the radio all day long like Christmas. And don't forget weird days like National Donut Day or even events like the just-passed Golden Globes. You never know when you can tie your PR to an event for some easy press.
General Tidiness
Running a PR campaign can get confusing, especially if it's many-faceted and continuous. You can get lost in all the steps you need to take and tasks you must complete. You know if you miss one thing it could derail another part of your campaign completely, at least temporarily.
This is another reason why utilizing your calendar is so important in the PR world. Once you start ironing out the details of your strategy, you want to maintain the schedule you've ironed out. Taking notes on when certain events happen can only improve your campaign.
Plus, if it's a communal/interactive calendar like Google Calendar, your team won't get confused. Often in even the simplest PR campaign you sometimes run into miscommunication and people acting out of turn. These problems can be most prevented by keeping up with a schedule. This way you can make tiny changes and everyone knows about it instantly instead of having a long meeting about it.
Do you already use a calendar for your PR campaigns?
This article is written by Mickie Kennedy, founder of eReleases (http://www.ereleases.com), the online leader in affordable press release distribution. Download your free copy of the Beginner's Guide to Writing Powerful Press Releases here: http://www.ereleases.com/insider/beginnersguide.html