With nearly 400 million people on Facebook, it's no wonder that the social networking site represents a true cross section of humanity. While most people have no problem understanding and observing Facebook etiquette, a few archetypes miss the point entirely. Do you recognize yourself in one of the following "Facebook Fools"?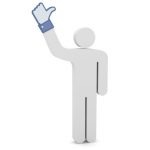 The Ghost – The Facebook Ghost created his or her account, but either forgot the service existed in a matter of seconds or has a serious self-image problem. Either way, their account is left with only a spectral silhouette where the picture should be. This causes all kinds of problems for friends and potential friends. "Is Greg from 12th grade calculus?" "Why am I being friended by a ghost?" Take some of the mystery out of Facebook and add a picture.
The Lurker – This Facebook fool never interacts on Facebook. He doesn't play Farmville, he doesn't "like" any of your status messages, and he certainly never replies to your Roller Skate BBQ Scuba Diving Extravaganza invitations. But when you see him in person and start to tell him your good news, he interjects with "Oh yeah, I already saw that on Facebook." This is highly unsettling behavior! Either acknowledge the fact that you are reading Facebook, or sit through your friend's good news twice.
The Ambusher – You wake up to the fateful email – "Amber Ambusher has tagged you in a photo." Wincing, you click the link only to find a picture of yourself at a Tri Delt party back in college, in a compromising position with a beer funnel, a Chihuahua and a clown. What the Ambusher doesn't seem to understand is that Facebook is a public forum, and that Grandma follows your updates more than she follows her soaps. Think carefully before posting incriminating photos or awkward messages on someone else's Facebook page.
The Chatterbox – "Cathy Chatterbox just put the clothes in the dryer." "Cathy Chatterbox wonders if she should have Chinese or Mexican for dinner. " "Cathy Chatterbox can't find the remote control." These are the scintillating details of the Chatterbox's life, cluttering up your friend feed day after day after day. In her worst incarnation, the Chatterbox clutters up your page, too, but commenting on all of your status updates and "liking" your activity every time you become a fan of Banana Republic or the Surprised Kitten.
The Self-Promoter – More annoying than the Chatterbox is the self-promoter. Instead of just regaling you with the mundane details of his day, the Self-Promoter's updates are all about me, me, me. He got a promotion, a raise, a novel published. He's dating a supermodel, who's also European royalty. He met her at the after-party celebrating  his Nobel Prize. And the Self-Promoter's updates about his fabulous achievements usually appear at the point where you're feeling the lowest.  It's always tempting to share your good news with the world, but social media is about being social, not bragging about your accomplishments. Tone it down.
Are you being followed by a Ghost? Has an Ambusher recently made your life miserable? If you're on Facebook, then you probably know one or more of each of these archetypes. What, you don't? Uh oh. Maybe it's you!
This article is written by Mickie Kennedy, founder of eReleases (http://www.ereleases.com), the online leader in affordable press release distribution. Download your free copy of 7 Cheap PR Tactics for Success in Any Economy here: http://www.ereleases.com/7cheaptactics.html