Getting the opportunity to create a guest post for a blog is a wonderful opportunity to expand your readership and fan base. Often these blogs have their own established readers who will check them out every single day, meaning you automatically have a lot of people who will check out your blog if they find your post interesting or intriguing.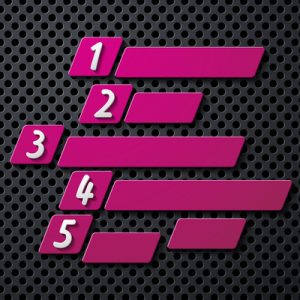 So naturally you want to put your best foot forward. One great way to capture attention is through an infographic. Not only does it get people excited about what you have to say, it's also a way for people to share on social media and through email with little effort. They just share it, comment about it, and the conversation continues.
So how do you go about making a great infographic? Take a look at this post on SocialMediaToday.com from E2M Solutions, 11 Most Important Google Search Algorithm Updates/Changes in 2013.
Riveting Information 
Is this the most exciting and riveting infographic in the history of mankind? Is it going to blow up all over the web? Probably not; that likely belongs to something about Kim Kardashian or interesting tidbits about Back to the Future you never knew.
What's important, though, is it's great information for its audience. While the info may be boring to the outside person, social media gurus will naturally be interested in this graphic. So much so that they'll share it – SocialMediaToday posting it as a guest blog is evidence of that already.
E2M Solutions knew its audience when making the infographic. The company knew who would be most likely to share it and catered it to those needs. They didn't pretend Joe Schmo would post it on his Aunt Hilda's Facebook wall. Instead, they picked a niche and catered to that audience.
Cuteness Factor 
Graphics are obviously a big deal for any infographic. Like it or not, the web is becoming quickly more visual and less dependent on the written word. It's the reason blog posts have gotten shorter and shorter over the years; anything over 500 words (possibly less now) will often get ignored.
With infographics you can capture attention as well as convey info at the same time. E2M went with cute graphics to make sure people paid attention. However, the cute pandas and penguins make sense, as they're the names of the various algorithm updates. They double up on capturing attention and conveying info, so they're ideal for E2M's ideals.
Easy to Consume 
How quickly did you read through the infographic? Probably fairly quickly as it's presented in easily digestible bites. It gives a nice timeline for algorithm updates over a period of time, catching all interested social media and Google fans up with how things changed last year.
Each paragraph contained with each graphic is long enough to give real info but short enough that it doesn't overwhelm the reader. This makes the whole thing an easy read you can check out and move on.
Also take note of the "negative space" around the graphics and text boxes. There's plenty of space to give your eyes a rest as you move down the infographic, further showing just how simple and digestible the whole thing is.
If it was more text-dense, it may put off some readers who want a quick fix before moving on. Less and you might get bored or assume the infographic is light on actual info. Finding a good mix like this is tough but a huge reward if you can pull it off.
What's the best infographic you've ever seen?
This article is written by Mickie Kennedy, founder of eReleases (http://www.ereleases.com), the online leader in affordable press release distribution. Download your free copy of the Beginner's Guide to Writing Powerful Press Releases here: http://www.ereleases.com/offer/beginnersguide.html