Your online presence can be just like your office. After working in it for so long, day in and day out, you don't notice all the little messes you've made. But slowly those little messes turn into one big mess. Soon, your office is so cluttered the janitor won't even go in!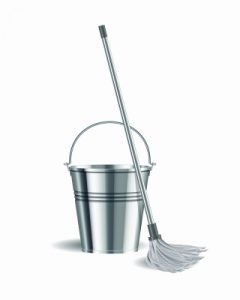 Your online presence can also get just as cluttered as your office. Not with literal trash and stains of course, but virtual ones – and virtual stains and junk can be just as damaging! If a customer walked into a trashy office they would probably think twice about buying from you, and the same if they see a trashy Facebook page.
If you're looking around online and seeing your business is a little messy, then it's time to clean up your act!
Spic 'n Span
Don't feel bad if your Facebook is messy and your Twitter is gunky. It happens to the best of us. But letting it get out of hand may affect sales, and you can't allow that to happen.
It's a little tough to define exactly what is "gunk." However, there are a few pretty clear examples, like if you've sent out ads to a bunch of people or if things got a little too personal. Facebook, too, can get swamped with erroneous material, so it may behoove you to clean it up a bit for your customers. Try not to delete stuff anyone else has contributed though!
Now that you've cleaned up what's already there, it's time to focus on what's going to go out next. Try to take notice of what you got rid of on your social profile. Was your Twitter feed in danger of becoming too personal rather than business? Now that you know, you can avoid it in the future. There's no sense in cleaning up if you're just going to make a mess again.
Sweep Out Underneath the Rug
When doing your proverbial spring cleaning, make sure to get every last little thing. When you clean a room in real life, you have to move some things around (like the rug) to make sure you got all the dust bunnies underneath. If not, the room is never 100% clean, and those dust bunnies might hop out and make an appearance at an inopportune time…like when a customer is nearby!
So really poke around and try to gather up everything that might make you look bad in the future. Is there a post on Facebook involving an unfortunate typo? If nobody will notice, quietly eliminate it. If someone notices it down the road, it may cause them to think twice about going with your company.
It's hard enough out there in the business world without making unnecessary problems for yourself. One of these is making your company look foolish with gunk and grime all over your online profile. Clean it up and realize the potential you always had with a fresh clean approach.
Have you ever cleaned up your social media profiles before?
This article is written by Mickie Kennedy, founder of eReleases (http://www.ereleases.com), the online leader in affordable press release distribution. Grab your free 160-page copy of the Big Press Release Book – Press Releases for Every Occasion and Industry here: http://www.ereleases.com/insider/bigbook.html