What do you want out of your business? Do you foresee an end to your latest venture or is it something you want to do until retirement?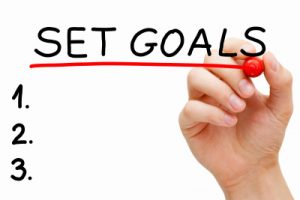 While this may seem like heavy stuff to consider while you're still trying to figure out other things like what you want to sell and how to organize your home office, your goals are not to be taken lightly. In fact, your decisions about your end game could be some of the most important you ever make.
Why? Because they shape every decision you make afterward. Once you've set your sights on something you're going to tailor your journey in that direction from there on out. This is why you have to be careful with your goals lest you lead your business in the wrong direction.
Every Decision is Important 
I don't want it to seem like I'm telling you to plan your entire life out right this minute. You don't even have to plan out this next month if you don't want. All I'm saying is you should set the goals you want to figure out what your journey will be.
You can see how one PR pro's plan for their business that involves long-term growth will be different from another pro's plan that gets them quick money before they leave. What you may not realize is just how much this affects your daily business decisions.
A PR pro planning for a long future might establish plans that include many steps. Some PR efforts take years to take effect as you may well know and are tremendously worth it in the long run. However, if you're in business for other reasons and want a quicker result, there's no need for any of the long-term planning. A short term PR investment is the way to go.
Your Journey 
Your goals make up your PR and business journey. If you don't choose them carefully, you may end up on a path you never intended. While this can sometimes be a good thing, it could set you on a journey you're not prepared for.
This is why choosing your goals is so important. Your end-game can trickle down from PR to everything else in your business. It may even affect money choices – if your printer is on the fritz, a long-term choice would be to buy a new one, as opposed to suffering through it if you're going to shut down soon anyway.
Don't be afraid to be as specific as possible, either. If one of your goals is to make a million dollars your first year – it may be a little unrealistic, but go for it. Try to whittle it down even more. For instance, how much will you make each month? What PR tactic could make this dream a reality?
Suddenly, you've got a real plan going, and your goals look like they're in reach. Just make sure you keep your steps on the path to your goal, no matter how much it changes. If you've chosen carefully you should see everything come to fruition.
How far have you planned for the future?
This article is written by Mickie Kennedy, founder of eReleases (http://www.ereleases.com), the online leader in affordable press release distribution. Download your free copy of the Beginner's Guide to Writing Powerful Press Releases here: http://www.ereleases.com/insider/beginnersguide.html