What's your perception of a company that uses social media? If you're like many B2B business owners, you may get the idea they spend all day Tweeting and pinning and sharing zingers with their customers. But engaging via social media with another business? Why bother?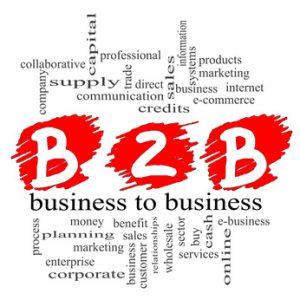 Of course that's not true at all. Businesses all over the world interact with each other using social media. It may not be the exact kind of relationship a B2C company enjoys, but that doesn't mean it's less important or profitable. Here are several ways you can use social media to talk with your business clientele.
Business Discussion 
You're always looking for the best way to connect with your customers. Finding common ground is a great way to build the relationship up so they trust you and see you as an expert in your field… as well as a friend. Since you both know business, this should be a treasure trove of ways you can connect.
Try to figure out which aspects of business you have in common. For instance, let's say you're an office supply company that mainly sells to construction companies. While there may not be a huge overlap there, you eventually figure out that both industries are heavy on organization and can be compared in that manner. This gives you ample opportunities to discuss your mutual hardships and successes… and helps you fulfill your construction customer's needs.
Focus on Great Content 
Your business clientele is likely going to be more impressed with data points and figures than the general public would. While you can get some good mileage out of an infographic or other content with B2C customers, business owners could actually find what you share incredibly useful.
So one way to boost the social media relationship with your business clients is to focus on good content. Again, you're bound to share common interests or even a common industry, and there's always endless data you can collect to share on your various social media platforms.
The office supply company above could collect information to how many specific items have sold in a set amount of time. This could be made into an interesting infographic to show other businesses what the big movers are over a period of time and even what time of year they move. In the end this could help you move more product as well.
What are some social media strategies you've used to promote your B2B business? 
This article is written by Mickie Kennedy, founder of eReleases (http://www.ereleases.com), the online leader in affordable press release distribution. Grab three ebooks, including My Facebook Formula, a free report on Facebook and why you should be using the largest social network for your business, here: http://www.ereleases.com/insider/freebooks.html