Baby, it's cold outside. And while you're able to put on a warm sweater, scarf, and mittens to warm yourself up, your PR campaign can't! At least, not in any literal sense – there are more figurative articles of clothing you can dress it up in so it doesn't feel the chill of winter.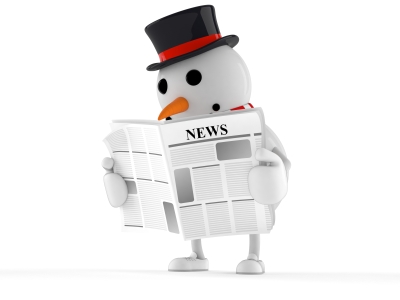 PR Pros know that public relations is all about the communication between people, no matter how big the company gets. The further separated your campaign is from your core customer base, the chillier it gets. Warm it up with these three suggestions.
Sweater – Social Media
Nothing feels better on an icy winter day than a hot cup of cup of cocoa and a fuzzy sweater. And nothing feels better to your customers when their favorite companies and brands reach out to them to really hear what they want. When you talk and listen (REALLY listen) to what the public has to say, it makes them feel warm and fuzzy – like a sweater on a cold day!
The more "business-like" you act on social media, the more of a chance you're losing the whole point of the medium. People, in general, want to feel like there's actually a person behind their favorite businesses – not just a nameless corporation.
Take a look at your recent activity and see if you're actually interacting or just bleating advertisements. If it's the latter, make an effort to reach out!
Scarf – Community
How active are you in your local community? You may not believe it's important, but in today's increasingly technology dependent world, human interaction is becoming a rarity. And local communities may only make up a small portion of your business.
But it's still a portion!
You don't always need to wear a scarf when it's cold. But on those days when it's super windy and chilly, it's a nice extra comfort, and you miss it when it's gone. Don't let this happen to your local customer base! Even the smallest outreach can rope them back in, such as a charity event or participating in a local festival.
Mittens – Press Releases
Things must be really chilly if you're throwing on mittens! But after a few hours of your fingers getting numb from the cold it's nice to throw on a pair. Once you do, it's almost like you can't remember why you put them up the closet for so long in the first place.
While PR is slowly moving away from the art of the press release, it's nice to see a good one hit the airwaves once in a while. When they're really well done, they really shine, and can really warm up a campaign with much needed support and exposure.
Best of all, just like the mittens, it puts your campaign in customers' hands – sometimes literally! Don't think you're too big or "tech-heavy" to put a good press release together – toss those mittens on and give it a go.
What are some other ways to bring your campaign in from the cold?
This article is written by Mickie Kennedy, founder of eReleases (http://www.ereleases.com), the online leader in affordable press release distribution. Download your free copy of the Beginner's Guide to Writing Powerful Press Releases here: http://www.ereleases.com/insider/beginnersguide.html