What do Star Trek, Harley-Davidson, Oprah Winfrey, World Wrestling Entertainment (WWE), Apple, the Volkswagen Beetle, Jimmy Buffett and Linux have all in common? These entities are among the handful of national and international brands that have reached cult status.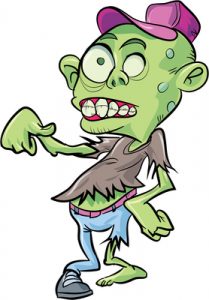 At one time or another, we've all probably wondered why Star Trek appeals to so many people. I'm sure many of us don't quite understand the appeal of Jimmy Buffett's music or why accountants ride Harley-Davidson motorcycles. One person who does understand these cult brands is Matt Ragas, the co-author of "The Power of Cult Branding: How 9 Magnetic Brands Turned Customers Into Loyal Followers (and Yours Can, Too)."
Ragas and Bolivar J. Bueno studied nine company and individual brands for their book in an effort to find out, among things, why a cancelled sci-fi television series turned into a franchise and how a local broadcaster became one of America's most powerful media players.
"We spent about a year with the questions: What are the most captivating and loyal brands when it comes to customers? Does this happen by plan or does it happen by accident? How do these brands spark this level of captivation?" Ragas said.
To do their research, Ragas and Bueno hungout with Trekkers ("Don't call them Trekkies, they think it's a derogatory term," Ragas says), Harley owners and VW Beetle drivers. The pair also interviewed company officials and those who were responsible for creating some the brand images.
"Some said it had happened because of accident. Some of the marketers were coming at the brand from a very deep level. But others understand the relationship is really between the brand and the customer."
Ragas says that similarities are found in almost every cult brand:
– All cult brands dare to be different.
– Cult brands understand that they're not just selling a product or service.
– While cult brands seem exclusive, they're actually inclusive.
– The brands don't take themselves too seriously – at least not publicly.
"The one thing all of these brands have in common is that they understand they're not just selling a product or service, they're selling other customers to each other," said Ragas.
When it comes to PR, the cult brands, says Ragas, understand the power of the media.
"Apple is a master of the media. One reason they're very effective at dealing with the media is that they understand that there needs to be a unique story to sell. Apple and all of these cult brands sell their story very well. A lot of time, they use the classic underdog story. Harley is a good example of this. When they were being beat down in the '80s by overseas competition, they played into the patriotic nature of their brand. PR plays an important role in all of this."
Some of the cults, such as the WWE, let other people use the media to promote their brands.
"Love them or hate them, the WWE has been very smart in using the media. They don't mind that all these journalists and right-wing types hate them. All of these cult brands realize they're not in the business of trying to please everyone. They know they're going to have enemies and the media can play a very useful role in telling that story also."
Cult branding doesn't have to be a national or international phenomenon, according to Ragas.
"Restaurants are a good example of how cult branding can happen on the local level. Every decent size city has cult-brand restaurants. At the end of the day, people buy because of other consumers."
While the Star Treks and Oprahs of the world have cultivated, nurtured and maintained their cult brands, some companies have moved on. Starbucks has lost the cult brand status, though the company hasn't suffered.
"Every brand has to decide which direction is best for them. Starbucks was a cult brand, but they're not anymore. They're highly-profitable, so the trade off certainly hasn't been bad. Their customer loyalty is hard to fathom."
Some brands lose their cult status or see a sharp decline. These types of brands include Blackberry, Zynga, and Quiznos.
Among the current companies that have attained a smallish cult status, according to Ragas, is digital video recorded maker TiVo.
"Everyone who I come across who has the product is just juiced. It has the evangelists – the unpaid followers. But it's tough to see the true durability. That brand carries a lot of weight."
But Ragas cautions and says that the brand is sometimes more important than the product.
"[With a company like TiVo] the technology is really no different or better than a lot of their competitors. No one is buying a Harley because it's a great performance bike. No is buying Vans shoes because they're great shoes – it's about the brand."
One way to help foster brand loyalty – product quality be damned – is to appeal to people's emotional needs.
"When you buy a Harley, you're buying a ticket to a new communal experience. We'd hangout with Harley riders and these people wouldn't talk as much about the brand as they would about the lasting friendships they made because they own a Harley," says Ragas. "Harley symbolizes more than riding a bike – it symbolizes escapism."
Figuring out whether you've got a potential cult brand on your hands isn't going to happen overnight. It took years for carmaker Saturn to foster a loyal customer base and the company did it, in part, by sponsoring events and pitching the Saturn community. However, that wasn't enough to save the carmaker when the economy fell apart. Star Trek's status as a cult brand was no thanks to Paramount, the company that owned the title's rights. Paramount helped NBC kill the show and was more of a hindrance than a help when it came to fostering fan conventions, magazines and new product lines.
In the end though, using these cult brands as templates for marketing and PR initiatives can't hurt.
"Not every product or service is cut out to be a cult brand. It's just not going to invoke that same level of passion and excitement [that other products and services do]. But a lot of things we learned and wrote about can be applied to any brand."
As Ragas put it simply, "Not everyone can become Tiger Woods, but everyone can improve their golf game."
For more information on "The Power Of Cult Branding," visit http://www.powerofcultbranding.com
Ben Silverman was previously a business news columnist for The New York Post and the founder/publisher of DotcomScoop.com.

Download your free copy of the Beginner's Guide to Writing Powerful Press Releases here: http://www.ereleases.com/offer/beginnersguide.html