I am in the midst of hiring a writer/blogger to help provide content for PR Fuel. I placed an ad on problogger and have received more than 200 responses. In fact, I'm still working on the short list. I'm finding a lot of qualified writers who each bring something unique to the table. I also witnessed many common mistakes. I sent the following to those writers who did not make it to the final round of applicants, which I believe might be instructive to any writer seeking work: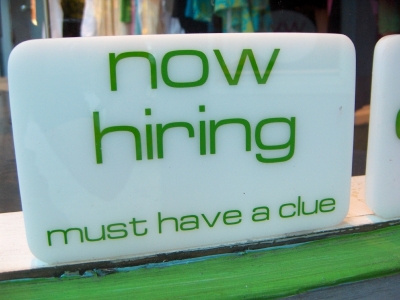 I wanted to write and personally thank you for applying to write for eReleases PR Fuel. Unfortunately, I have to tell you that you didn't make the final cut. Don't despair. There were more than 200 entrants, many of whom were highly qualified writers.
I've narrowed the list to a small handful and will be trying to pick a final writer within the next two weeks. There were many factors that influenced my final selection. It came down to style, track record in the industry, and, in a select few cases, following directions. There were a few people who sent resumes with no writing samples or links to blogs, etc. I just can't gauge a writer based on a resume. In addition, some writers seemed to be really good writers but only within a specific niche, like fashion or wireless technology.
Again, I wanted to thank you and wish you the best in your freelance writing pursuits. I've been there and it's tough. When I started looking for a writing/editing position out of college, the job market was bad. I was competing against people with advanced degrees looking for internships or low-paying work to bide the time. I applied to over 150 jobs before landing a job paying $18,000 (today, the same place still pays in the low-20s).
Below are some observations I made that might help you in the future and that I wish someone had told me nearly 20 years ago. These come not only from my experience as a writer, but also as a publicist and an employer.
Research the Employer
Make your pitch specific to the job. Show that you educated yourself on the company and its needs. At the very least, you should have familiarized yourself with the company's website, its services, and blog.
Know the Job Process: Beware of Potential Landmines
Read the company's job description, requirements, and application process carefully. Many employers create small hoops for you to jump through. By asking for a cover letter that answers a specific question or a resume in a specific format (like .rtf), these employers are creating a path from which successful applicants will follow — and unsuccessful applicants will self-filter themselves from consideration. Following directions is critical and the most elemental part of any job. It can also be the land your resume in the keep or toss pile.
Target Your Pitch
If you are coming at a company's round hole as a square peg, state it up front. This will prevent you from appearing as off target or simply blasting your resume to any writing job. A tailored resume and cover letter to 20 targeted employment positions should yield you more success than blasting 50,000 off-target job postings. If you are a fashion writer (or a writer within a specific niche), you need to address the elephant in the room, perhaps by simply stating, "I know you will see that I have written exclusively on fashion, but I'm savvy in social media and PR. In fact, I wrote this specific article on …"
Position Yourself for Future Opportunities
If you don't get the job, learn from the experience. If you remain committed to jobs within a specific industry, your efforts and research will turn to gold as competitive intelligence and possible networking opportunities. If you've reached out to the employer through social media, you can continue to foster a relationship over the years. Future opportunities may come through guest blogging, cross-promotion, or writing positions. Every lost job presents a future opportunity if you nurture that opportunity.
This article is written by Mickie Kennedy, founder of eReleases (http://www.ereleases.com), the online leader in affordable press release distribution. To subscribe to PR Fuel, visit: http://www.ereleases.com/prfuel/subscribe/.