If you've ever met an Apple fan, you already know the definition of brand loyalty. Apple enthusiasts take their love for the electronics company to extreme levels, with many getting tattoos and others making Halloween costumes out of stolen displays. Apple fans have a deep emotional attachment and long-term commitment to the products the company puts out.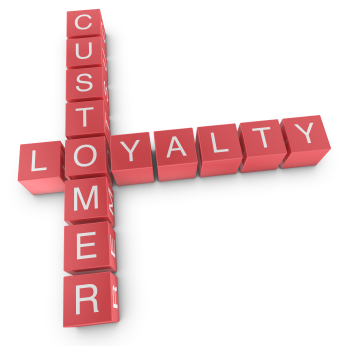 Let me give you another example of brand loyalty. I have a friend who loves playing video games. However, since I've known him, he's refused to play on any other video game system besides Sony. He stuck with the Playstation 2 until its end, and he purchased the Playstation 3 the day it came out. But that's not all. He loves Sony's video game products so much that his devotion carried into other electronic purchases. His TV, computer, digital camera, and cell phone were all made by Sony. He even named his cat Sony!
I think it's safe to say there isn't a single company out there that wouldn't gladly take that kind of loyalty from their customers. But with so many choices and so few companies with truly unique identities, this kind of loyalty is rare. However, that doesn't mean it's impossible to achieve.
1.     Create a highly-focused ideal customer – Brand loyalty is likeliest to come from "minority customers." These are the customers whose needs aren't being met by your competition. It's kind of like the film lover who only enjoys smaller, artsy films and can't stand the huge summer blockbusters. By targeting this overlooked customer, you can help to create a sense of community and belonging. Think of the "I'm a Mac" campaign. It's about shunning the norm and belonging to a different group.
2.     Build a total brand experience – Going back to the Apple example, everything about the company is different from the competition. From the sleek, stylish products to an in-store experience that's like no other, every interaction you have with the brand is a totally innovative experience. The brand has a very clear identity, and they stick to that identity in every facet of the company.
3.     Generate word of mouth advertising – Consumers have become less and less responsive to traditional advertising and marketing campaigns. Quite simply, they just don't trust most companies. They do, however, trust fellow consumers. That's why you need to get customers talking. Some ways to harness the power of consumer recommendations include:
Gather testimonials
Make it easy to spread your messages (encouraging customers to tell others, social media share links in your messages, etc.)
Be consistently great
Offer incentives for referrals
4.     Consistency is key – When customers buy an Apple product, whether it's an iPhone or a MacBook, they have a pretty good idea of what they're getting. Apple is famous for their consistency. That's why customers will line up overnight to purchase new products the second they come out. They know it's going to be great. That's what you need to shoot for. Your products and services need to be great every single time. If you're inconsistent, customers won't feel motivated to marry your brand.
What else can companies do to create brand loyalty? Leave a comment with your best tips.
This article is written by Mickie Kennedy, founder of eReleases (http://www.ereleases.com), the online leader in affordable press release distribution. Download your free copy of 7 Cheap PR Tactics for Success in Any Economy here: http://www.ereleases.com/7cheaptactics.html