Your blog can be one of your most powerful marketing and PR tools. You can use your blog to increase brand awareness, position yourself as a thought leader and expert, share company news, drive sales, provide resources for the media, and a host of other purposes.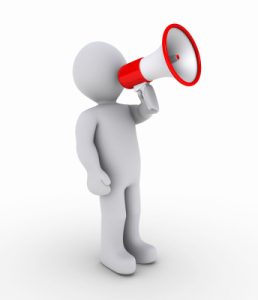 However, you have to remember that the web is littered with blogs…hundreds of millions of them, in fact. So, as a blogger, one of the most important things you have to do is find a way to stand out in a sea of blogs. I'm not saying you have to reinvent the wheel, but you do have to offer your blog readers something they can't get anywhere else.
What's the best way to ensure your blog stands out in the crowd? You have to give your blog a unique, distinctive voice. Your blog needs to have a certain "sound" and "feel" to it that's like no other blog out there.
So, that leads to the next question: How do you create a unique and distinctive voice for your blog?
Here are some tips that will help you find your voice as a blogger.
Know your brand—What kind of personality does your brand have? Have you positioned your brand as funny and witty (like Geico, for instance)? Maybe your brand is seen as supportive and caring? Or maybe you have a more serious brand image?
Make a list of the characteristics already associated with your brand, and try to focus on capturing that in your blog writing so that your blog is consistent with your overall branding efforts.
Be yourself—The best writing advice ever given to me was, "Write like you speak." There's no one else exactly like you in the world. If you showcase your personality in your writing,v your blog will instantly have a unique, personal voice that readers can connect with.
Blog passionately—A lot of bloggers are just going through the motions. They write and publish posts because they have to, not because they necessarily want to or because they have something important to say. That's how blogs become boring and generic.
Blog about things you have a passion for. Your passion and enthusiasm will shine through in your writing and help to create your unique voice as a blogger.
Know your audience—Every blogger should have a target audience, and who that target audience is should influence the type of content you're publishing. If you haven't taken the steps yet to identify your target audience, do that now. Be as specific as possible when describing them. Then, research your target audience—their interests, what they read, how they talk, etc. Use that to influence your writing style so that your voice resonates with your target audience.
Do you feel you have a unique voice as a blogger? Do you think it's important to have a unique voice as a blogger? Share your thoughts by commenting below.
This article is written by Mickie Kennedy, founder of eReleases (http://www.ereleases.com), the online leader in affordable press release distribution. Grab three free ebooks, including the Big Press Release Book and Twitter Tactics, here: http://www.ereleases.com/insider/freebooks.html