Did you know Pinterest has already taken the #3 spot as the most popular social media outlet? Knowing this, can you really risk not using it to spread the word about your company and converse with your customers on Pinterest? However, doing so isn't as straightforward as with Twitter and Facebook, so here are some ideas on how to use Pinterest in your campaign.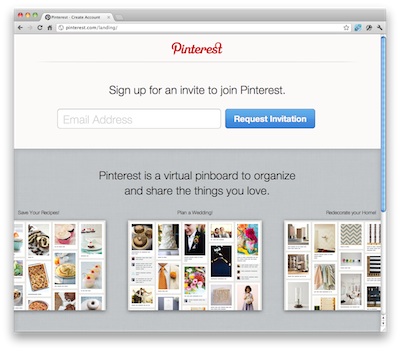 1. Share What You Think is Cool
Hey, might as well use it like it's meant to be used, right? Pinterest is all about sharing pictures and cool stuff, so join in the fun. You might actually get wrapped up in pretty quickly. Not this is a bad thing – the more you share, the more people notice you, especially if you're sharing what they're also interested in. So hop on and share some things you find interesting or fun and you'll soon gain a following.
2. Let Others "Pin" You
Your customers feel a certain way about you and the products you sell. Let them show you by opening up a user generated pinboard. Users can pin pictures to this pinboard that reflects how they feel about your company. Or you can direct it more specifically by asking them to pin things that represent different aspects of your product – for instance, if your product helps people organize their life, they can pin items that represent organization – like a picture of their neat and tidy home office.
3. Add a Button to Your Site or Blog
Just like you added a "Tweet this" or "Share this" button on Facebook, you can also add a "Pin-It" button to your website or blog pictures. Doing this cuts out the middle man and gives your stuff a better chance of spreading around Pinterest and to the eyeballs of awaiting future customers.
4. Make Videos
Pinterest isn't just for videos, of course – but videos are a big draw to the site. Knowing this, your campaign could benefit from making a few of your own! However, don't go crazy advertising to your fanbase, as they will be turned off quick.
Instead, make some videos that somehow benefits THEM. You should have an idea what they're interested in by now, so talk about what they're interested in. Make it interesting, make it funny – just don't make it boring or your video will languish alone on your pin board, unloved and un-repinned.
5. Cross Promotion
When possible (and organic), send your Pinterest followers to your other social media pages and website. Not only is this good for cross promotion and unique followers, you can more easily gauge your success when you have people commenting on your blogs and buying your stuff. Pinterest has already shown to engage an audience that doesn't always participate in other social media, so Pinterest could be a jumping off point to get new users to join your more established social media efforts.  And of course the same goes for your other social media services – send 'em over to Pinterest!
How have you been able to use Pinterest for your PR campaigns?
This article is written by Mickie Kennedy, founder of eReleases (http://www.ereleases.com), the online leader in affordable press release distribution. Grab three ebooks, including My Facebook Formula, a free report on Facebook and why you should be using the largest social network for your business, here: http://www.ereleases.com/insider/freebooks.html