Back in November, I wrote a post titled "The 5 Little Things You Should Do On Social Media Every Day." The post actually got quite a bit of attention, and I think it's because people are always looking for ways to save time and get more done.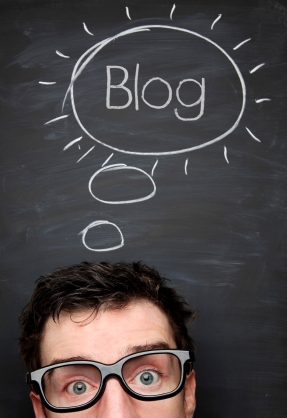 That's why I've decided to do a follow-up post detailing the 5 simple daily tasks you should do to keep your blog growing. If you do these every day, the traffic will keep coming in and you'll continue to gain notoriety in your field.
1. A Little Writing
You can't have a successful blog if you don't have good content. And your content isn't going to write itself. Even if you don't post on your blog on a daily basis, I still recommend doing a little writing each day. This keeps your writing muscles strong, and it helps you build up surplus content for those times when writer's block hits.
Speaking of writer's block, try always keeping a list of ideas handy. Ideas tend to strike at the most random times, so keep a little notebook or smart phone with you so you can take them down. This will help keep you from running out of topics to blog about.
2. A Little Comment Moderating
Comments are the lifeblood of your blog. A blog without comments isn't really a blog at all. Spend some time each day approving comments, deleting spam, and responding to your readers. This keeps your blog lively, and it helps you build relationships with your readers.
When you respond to comments, say more than just "Thanks for leaving a comment!" Take the time to thoughtfully respond to your readers so you can keep the discussion going.
3. A Little Reading
Sometimes, you need to get out of your own blogging bubble. Go read other blogs. You can check out other blogs in your niche and even blogs not related to what you write about. It's helpful to see how other bloggers go about their business, and it can often inspire you to try new things and be a better blogger.
Not to mention, commenting on other blogs is a good way to network with others and ultimately drive traffic back to your blog. Just remember to always leave thoughtful, useful comments.
4. A Little Promoting
Just because you blog it doesn't mean people will read it. Building a successful blog requires constant promotion. Spend a little time each day Tweeting links to your posts, submitting your blog to blog carnivals, reaching out for guest blogging opportunities, and more. You can't get lazy with this, because as soon as you stop promoting, you'll start to see your traffic drop.
5. A Little Analyzing
It's important to spend a little time each day analyzing your blog's performance. Look at the traffic numbers. Pay attention to how people are arriving to your site, what type of content tends to perform best, and what parts of your blog are underperforming. This helps you stay on track so you can constantly improve your blog's performance.
Share some of the things you do with your blog each day by leaving a comment below.
This article is written by Mickie Kennedy, founder of eReleases (http://www.ereleases.com), the online leader in affordable press release distribution. Grab three free ebooks, including the Big Press Release Book and Twitter Tactics, here: http://www.ereleases.com/insider/freebooks.html