Want a blogger to review your product? Or maybe you want them to let you guest post to build authority and get a useful link back to your site? If so, here's what you don't do: just randomly contact them and say "hey can you do ____ for me?" Instead, you need to make sure you build a relationship with them before you ask them to "scratch your back."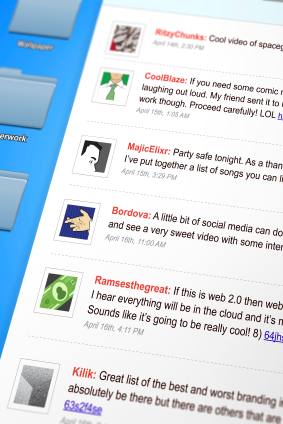 Here are a few ways to go about it:
Engage Them on Twitter and Facebook — If you're a serious blogger, chances are you're also active on Twitter and Facebook. After all, they go hand in hand. Having said that, this is one of the top ways to start building a relationship with the blogger. Follow them on Twitter and reply to some of their tweets. Retweet especially good tweets. Include them in #FF (follow Friday) Tweets. Like their Facebook Fan pages if they have them. Whatever you can do to show Social Media support will go a long way toward getting their attention and building a relationship with them.
Comment Regularly on Their Blog — A blogger is much more likely to let you guest post or review your products if you are already active on their blog. That means commenting often. But keep in mind, commenting doesn't mean "great post!" Instead, make sure your comments have substance. Refer to something specifically in their post so they can tell you are actually reading their content. Otherwise, your true motives will ring loud and clear.
Share Their Content — Run your own blog? Then periodically create your own posts that refer to theirs. Make sure you include a link back to the post, as the blogger can then see that you are sharing their content. You can also share their posts on Twitter and Facebook. By sharing their content on a semi-regular basis, the blogger can't help but be thankful for your free press. And thankfulness will often lead to them returning the favor.
Subscribe to Show "Genuine" Interest — Often, serious bloggers include sign up forms for their newsletters. These serve various purposes, one of which is to drive traffic to their own product offerings. When you subscribe to their newsletters, they will see your email address pop up and really start viewing you as a legitimately interested party. And if you want to take things up a notch, make sure you click through some of the links in their e-newsletters. When they look at their data, they will see you taking the additional steps.
The bottom line is this — you need to build a relationship with a blogger before you ask them to help you out. Otherwise, they are going to see you as just another selfish businessperson looking for free press. Why would they want to help out someone like that?
This article is written by Mickie Kennedy, founder of eReleases (http://www.ereleases.com), the online leader in affordable press release distribution. Download your free copy of 8 Shocking Secrets Press Release Distribution Firms Don't Want You to Know here: http://www.ereleases.com/landing3.html