If you've been following the news lately, you've probably heard about NFL quarterback Ben Roethlisberger's problems. Most recently, Roethlisberger was accused of sexually assaulting a college student in a Georgia nightclub. About 8 months before this incident, the start quarterback was hit with a similar accusation from another woman.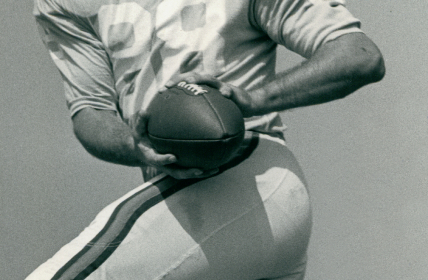 Now, it's worth noting that both charges have been dropped, and Big Ben was never found guilty of any wrongdoing. However, that doesn't mean he hasn't suffered some consequences (he is suspended 6 games for the upcoming NFL season), and his image has also taken a serious hit.
If one good thing has come out of Big Ben's problems, it's that he's made a lot of mistakes along the way…mistakes that all of us can learn from. And no, I'm not talking about his creepy haircut. Here are a few PR lessons to pick up from the quarterback's recent fumbles.
Mistake #1: Allowing himself to be put in a compromising position
Public relations is a 24/7 task. It doesn't matter if you're a millionaire athlete or the owner of a small business, you always have to be on your best behavior because you never know who's watching. All it takes is one slipup for you to put your whole brand in jeopardy.
You have to be able to recognize when you're putting yourself in a risky situation, and Ben Roethlisberger failed at this. Think before you act, and always look at your actions from every possible angle to make sure you aren't putting yourself or your brand in danger.
Mistake #2: Not learning from his first mistake
Mistakes happen. We all make them. It's inevitable. The key, however, is to make sure you learn from your mistakes so you don't repeat them. Unfortunately, Big Ben didn't learn from his first mistake, because just 8 months later he was in the exact same situation once again getting accused of sexually assaulting a woman. It's absolutely inexcusable to make such a huge mistake twice…especially in such a short period of time.
Whether your mistake is as scandalous as Roethlisberger's or it's something less tawdry, like screwing up a relationship with a reporter, you have to learn from it and never repeat the mistake.
Mistake #3: Giving a half-hearted statement
Just hours after it was announced that Ben Roethlisberger would not be charged with sexual assault, the NFL star read a short statement from his team's locker room. Now, this is pretty standard practice in a situation like this, but Ben handled the situation pretty poorly if you ask me.
First, he started out his statement by thanking the police and prosecutors for not charging him with sexual assault. For someone who pissed off a lot of people and lost a lot of fans, this wasn't the best way to start his statement. He should have first and foremost apologized to the woman, his fans, the Steelers, and the league. What's worse is he read the statement with no emotion, creating a total disconnect between him and the audience.
And then there's the haircut I mentioned earlier. I know I said I wouldn't talk about it, but I can't help it. You can't show up after being caught up in a sexual assault case looking like, well, a sexual predator. Seriously, how did he not realize he should have gotten a decent haircut and shown up in a suit? Like it or not, image is important, and you have to at least look like you want to be there if you expect people to listen to your "apology."
What are some other mistakes Big Ben made?
This article is written by Mickie Kennedy, founder of eReleases (http://www.ereleases.com), the online leader in affordable press release distribution. Grab your free copy of the Big Press Release Book – Press Releases for Every Occasion and Industry here: http://www.ereleases.com/insider/bigbook.html